Pennsylvania Online Gambling Bolstered by Online Poker
November was easily the biggest month of regulated online gambling in Pennsylvania. With the state now having online slots, table games, sports betting, and online poker, operators saw record revenues. According to reports, revenue from table games doubled in November.
One big development from these numbers is that Pennsylvania online gambling appears to be growing at a faster rate than New Jersey online gambling.
Gross Revenues Almost Doubled in November
The figures for November were recently released by the Pennsylvania Gaming Control Board, and it is good news for the industry. Most areas saw massive gains during the month with overall revenue nearly doubling. This resulted in a 51 percent increase in taxes collected from operators.
It also appears that Pennsylvania citizens got the memo about online gambling as table game revenues have grown substantially in November. Table game revenues came in at $2.6 million, up 169% from October.
Slot saw modest gains in November as well, up 28 percent to $2.6 million. Looking back to October, slots have proven popular with a 102 percent gain. Online poker saw solid numbers for its first month of operation. PokerStars earned $1.97 million in revenue during November.
As a whole, the online gambling industry took in $9.66 million. This is a 95 percent increase since October. Looking back to August, the industry has seen a 182 percent increase in revenue.
Casino Growth Attributed to Higher Numbers
Not surprisingly, the addition of two new casinos helped to contribute to November's growth. Mount Airy launched both PokerStars and Fox Bet on November 4th. PokerStars brought in a staggering $1.97 million alone for online poker. Seeing that PokerStars has a temporary monopoly on online poker, this number is not surprising.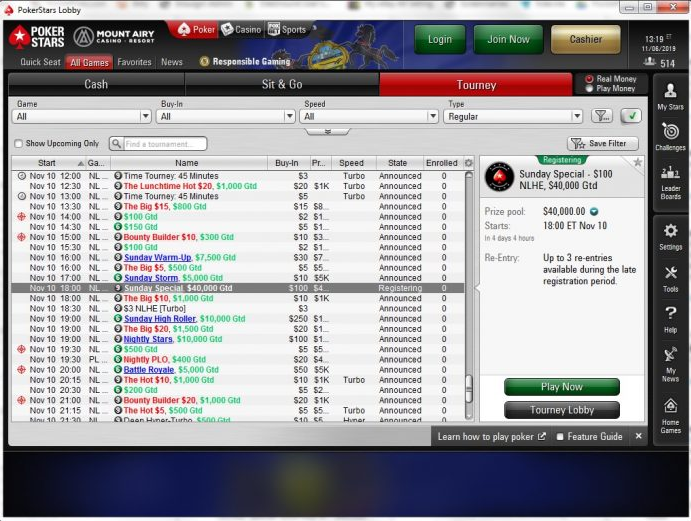 Also, Unibet launched on November 18th. They are partnered with Mohegan Sun Pocono and became the fifth online casino in the state. Another contributing factor to November's growth was the addition of blackjack games by Rivers Philadelphia. This proved to be a well-received addition as the casino earned an additional $20 million in revenue, which is amazing considering that blackjack only ran the last week of November.
For those interested in what percentage of the market PokerStars represents, the company presently has a 20% share of the total market just after the first month. Again, keep in mind that PokerStars has a monopoly on online poker at the moment. This will change in the near future as WSOP PA and partypoker are expected to launch.
Pennsylvania Gambling Growing Faster than NJ
One interesting thing to note about the growth of online gambling in Pennsylvania is how it stacks up against New Jersey. Presently, the total market is about a fifth the size of New Jersey but numbers indicate that it is growing at a faster pace than New Jersey.
What's perhaps most interesting is that PokerStars took in over $2 million in online poker revenues in November alone. New Jersey as a state only pulled in $1.5 million in revenue in November. To say that online poker is a success in the state is a bit of an understatement.
Pennsylvania in Good Shape Regardless of Wire Act Opinion
What's perhaps best about these numbers is that they are not dependent on the legal challenge to the Wire Act. Pennsylvania regulators had the presence of mind to insist that operators comply with the current interpretation of the Wire Act.
What that means is that even if the DOJ wins its appeal, Pennsylvania will still be in compliance. If the DOJ loses, then Pennsylvania will have the freedom to expand and enter into interstate partnerships. Either event, the future is looking very bright for online gambling in the state.