NJ Orders Illegal Sportsbooks to Cease and Desist
If you're looking to offers online gambling services illegally in regulated US states, think again. According to various reports, a company that has tried to offer sports betting services illegally in New Jersey is now under fire.
BetOpenly.com began offering sports betting services in early August and made the mistake of trying to offer their services to New Jersey residents. The New Jersey Division of Gaming Enforcement was quick to act and the site is now being told to cease offering online gambling to NJ residents.
BetOpenly Picked the Wrong State to Offer Services
When BetOpenly first launched in August, they decided that it would be a good idea to offer services to New Jersey. After all, the state has legalized online sports betting so it would be natural to assume that players would be open to their services.
The problem with this thinking is that New Jersey offers regulated online casino gambling and online sports betting. In order to operate, you must be licensed by the state and partnered with an Atlantic City casino. BetOpenly is operating independently out of California.
NJ DGE Quick to Pounce
The New Jersey Division of Gaming Enforcement was quick to act and has now sent BetOpenly a cease and desist letter. Addressed to Gino Donati of Open Games, LLC, the letter informs BetOpenly that they are operating illegally in the state.
Furthermore, they ordered BetOpenly to cease offering services in New Jersey and to put a disclaimer on their site to that effect. Finally, they informed them that they reserve the right to prosecute if BetOpenly does not comply.
Also, the DGE has forwarded their letter to both the California Gambling Control Commission and the California Bureau of Gambling Control. California does not offer online gambling or sports betting and may choose to prosecute.
What is BetOpenly?
BetOpenly is a sports betting site that is operating on a peer-to-peer basis rather than as a standard sportsbook. For a low percentage fee, users can act as their own sportsbook and setup wagers on the site. They can set their own odds and bets and other users can take advantage of this system to save fees.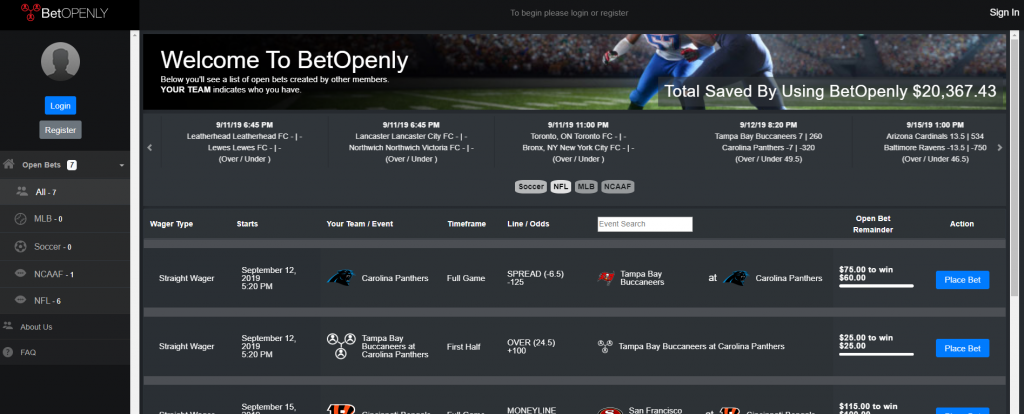 To this point, the site claims to have saved users over $20,000 compared to standard sportsbooks. What this also means is that the company is not paying any tax revenue or licensing fees to any regulatory body.
We Recommend Avoiding BetOpenly
After reviewing the website and considering the potential legal challenges facing this site, we strongly recommend that you avoid using BetOpenly. For starters, the site is set up as a peer-to-peer system rather than a standard sportsbook. This means that the only bets available are those that are being funded by other people.
As such, you cannot expect to find significant betting action on the site. When we looked at the site, there were only eight bets available for the entire website. That is a paltry amount of bets compared to a standard sportsbook.
Next, the structure of the website is very basic and looks like something that you'd expect from an elementary or intermediate web programmer. It is very uninspired and looks a lot like some underground online poker sites that you'd find in years past.
Finally, the fact that they chose to operate in an area where they are explicitly prohibited to makes us wonder what else they are doing behind the scenes. A legitimate operation would have prohibited bets from New Jersey and actively blocked access.
On the surface, this appears to be a substandard operation at best and one that you should consider avoiding until they can prove they can follow gaming laws in regulated jurisdictions.