One of our top recommendations for picking an online casino is to choose one that is licensed and regulated. This helps to guarantee that players receive fair treatment and avoid potential scams.
So what happens when a licensed casino fails to abide by the rules of the regulator. Star World Limited recently found this out when the Malta Gaming Authority revoked their license for several violations of regulatory terms.
Mr. Ringo No Longer Licensed
The Malta Gaming Authority issued a press release on Thursday announcing the revocation of Star World Limited's license. According to the press release, Star World Limited is "no longer authorised to carry out any gaming operations, register new players or accept new customer deposits, but is required to retain and provide access to all registered players to their player accounts, and refund all funds standing to the credit of players in line with the applicable law."
The press release stated that Star World Limited " breached paragraphs (e), (f) and (h) of the Third Schedule to the Gaming Act" and further revealed that the violations included failing to issue payments to the MGA, failure to pay players, and failure to ensure the integrity and availability of regulatory data.
Second Time MGA Has Acted Against Star World Limited
According to reports, this is not the first time that the MGA has issued sanctions against Star World Limited. Back in August 2017, the MGA suspended the B2C license of the operator but did not state the reasons behind the suspension.
Mr. Ringo has not had a stellar reputation amongst online casino. Many players have complained that the casino has randomly confiscated player winnings. Furthermore, there are additional complaints accusing the casino of slow pay or even non-payment of winnings. The site is also said to have poor support.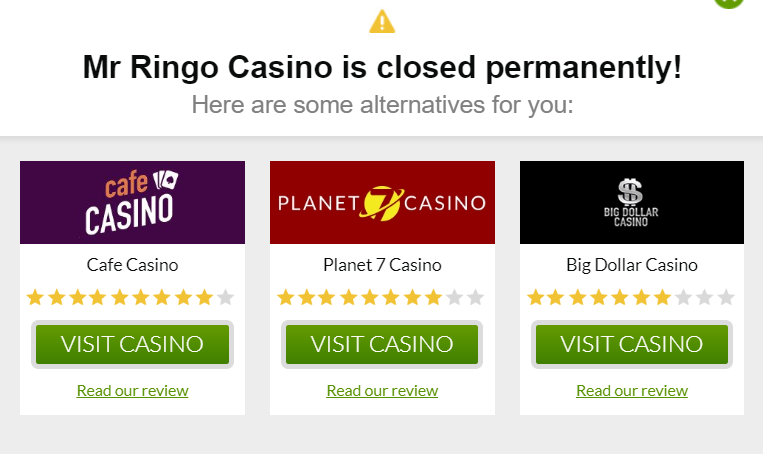 Website Now Redirects to "Partner Casinos"
We decided to check to see whether Mr. Ringo is complying with the MGA's suspension and it appears that the site is no longer offering online gambling services. However, they do recommend that you go to "partner casinos" in order to continue playing.
We do not know the relationship between these casinos and Star World Limited, but considering that Star World has had their license revoked, we cannot recommend that you play at any of their casinos. While this may simply be a way of complying with the MGA revocation, without further details we recommend that you exercise caution and go with casinos not affiliated with Mr. Ringo or Star World Limited.
Regulators Take Complaints Seriously
The Star World Limited saga shows that online casino regulators do take complaints seriously. It is not uncommon for some disgruntled players to complain when a casino fails to pay earnings. Often, these complaints come from players who broke the terms of their online casino bonus offer.
However, when the complaints continue to pile up, that's when you know that there is a problem. Online regulators regularly conduct audits of a gaming and internal practices of online casinos to ensure that gaming is fair and that online casinos are following established regulatory practices.
When a casino is in violation, they are given a chance to correct the problem. Legitimate online casinos will take the steps necessary to fix the problems and stay in compliance. Those that do not will ultimately have their license suspended or even revoked.
If you are looking for online casinos that are in good standing with their regulators, check out our list of legitimate online casinos on our homepage. We have partners all over the world, so whether you're looking for a US online casino, an online casino in Canada, or looking to play online casino games in Europe, we have a legitimate partner for you.