Back in September, we predicted that Kentucky would be one of the next five states to regulate online gambling. According to recent reports, we are in good shape to nail that prediction – at least partially.
On January 7th, Rep. Adam Koenig introduced HB 137 as a measure to regulate online sports betting, fantasy sports, and online poker in Kentucky. That bill has cleared committee and can move to the House Rules Committee. However, the bill is not a slam dunk to pass and even if it does, there's no guarantee the bill will survive in its present form.
Bill Clear LORARC Committee
Last week, the Licensing, Occupation, & Administrative Regulations Committee (LOARC) approved HB 137. LOARC is in charge of any matters requiring licensing, such as professional fights, auto racing, and various forms of entertainment.
The committee unanimously approved the bill. In its current form, the bill has 36 sponsors, which includes all but four members of the LOARC committee. If passed, HB 137 will legalize sports betting, daily fantasy sports, and online poker.
The state Lottery will be in charge of regulating online poker, which will be taxed at a rate of 6.75 percent. Also, players that want to play online poker must register in person at either a state-operated racetrack or other licensed betting establishments.
Senate Bill Could Eliminate Online Poker
The Kentucky Senate has filed their own bill, but the bill is drastically different than the House version. SB 24 is a sports betting bill, but it only applies to retail sports betting. It does not include provisions for online sports betting, DFS, or online poker.
Another key difference between the two bills is that SB 24 will help establish off-track sportsbooks. This would be beneficial to punters as they will have additional locations to bet on sports.
It's hard to speculate on why SB 24 lacks other provisions. Some believe that the Senate may not favor other forms of gambling. The bill may just be a starting point with room for negotiation. Regardless, it is still in its early stages and a lot can happen.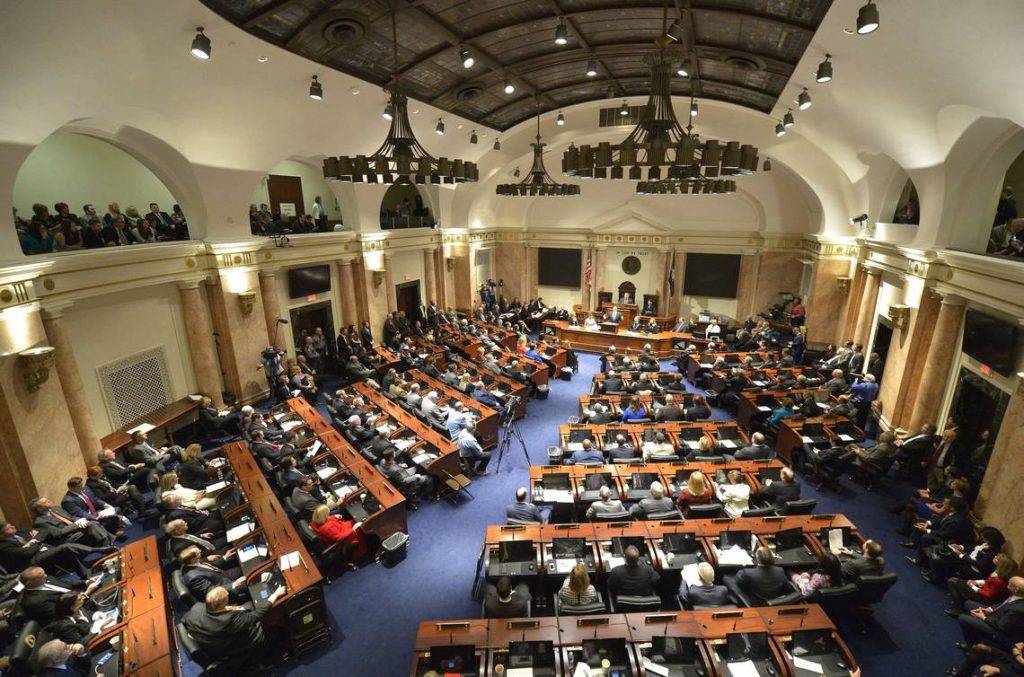 If both SB 24 and HB 137 pass, chances are that the bills will be merged. That could spell disaster if the Senate version is the one adopted. If there's support in the Senate for DFS, online poker, and sports betting, we could see the provisions added to the bill. Time will tell.
Online Gambling Noticeably Absent
What's interesting about this bill is that it includes online poker but omits online casino gambling. Generally, states will consider online casino gambling in conjunction with or in place of online poker. In this case, it is omitted completely.
There's nothing to explain this omission, especially since the state's new Governor is pro-online gambling. Our only explanation is that lawmakers are focusing on sports betting and that online poker was added to give some extra value to the state Lottery.
What's Next for HB 137
The next stop for HB 137 is the House Rules Committee. The nine-member panel will then decide whether the measure will move to a full House vote. They can decide to send it back to be revised. Most expect this bill to move past the Rules Committee and move on to a full House vote.
If the bill moves on to a House vote, it will be interesting to see whether the bill has enough votes to pass. Presently, the bill needs 51 votes. The bill has 36 co-sponsors and there are four members of LOARC that voted for the bill but are not co-sponsors.
As such, there are 40 votes that can be counted on at present. Supporters of HB 137 will need to drum up 11 votes between now and the middle of April when the legislative session ends. If that happens and the bill passes, then it will be up to the Senate as to whether HB 137 or a similar bill moves on.