Table poker is popular at many online casinos in the US. One game you'll find at many casinos is Three Card Poker. At it's simplest, Three Card Poker is a table game version of video poker but without a draw.
Three Card Poker is a simple game that you can learn in just a couple of minutes. Today we will cover the basic rules of the game and the simple strategy you can employ to win more at the game.
Three Card Poker Rules
Three Card Poker remains a popular online casino game because it's simple to learn. All you need is a simple understanding of how to make hands in poker. Here are the hand rankings for Three Card Poker:
· High Card- Three random uncoordinated cards, such as Q-7-2
· Pair – Two cards with the same rank, such as 9-9
· Flush – Three cards of matching suit, such as three spades
· Straight – Three cards in sequential order, such as 5-6-7
· Three of a Kind – Three cards all of the same rank, such as three tens
· Straight Flush – Three cards both in the same suit and in sequential order, such as J-Q-K of hearts
Prior to receiving a hand, you will have to place your bets. You will have two bets that you can place, the Ante and the Pair+. The Ante bet must be placed before you receive cards. The Pair+ bet is a side bet where you're betting on whether you're dealt a hand of a pair or better.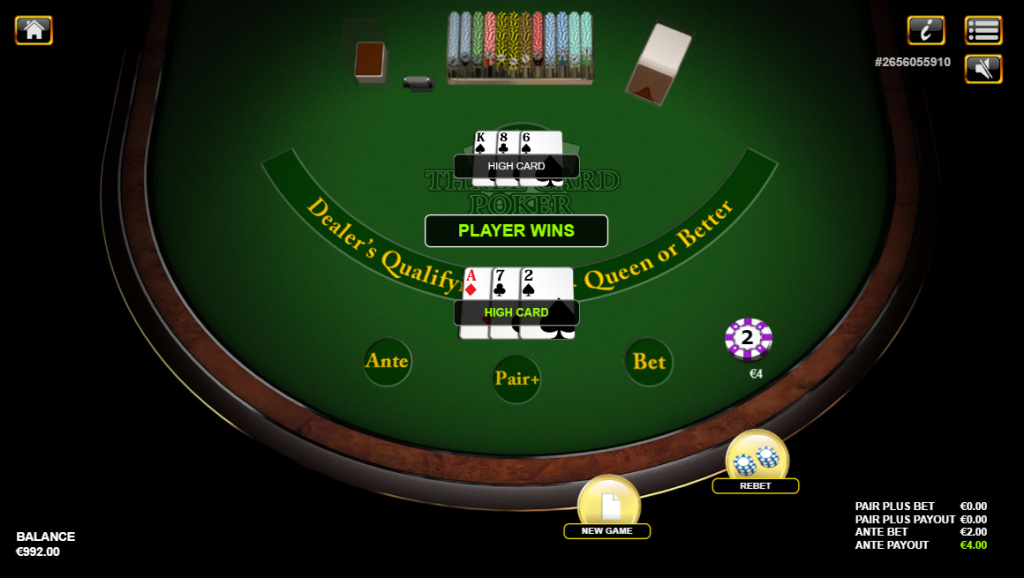 Once you've placed at least your Ante bet, you will receive cards. The dealer will also receive cards but will be face down. After evaluating your cards, you must now decide whether to play or fold.
If you decide to play, you will have to click on Bet. This will place a bet equal to your ante. If you choose to fold, the hand is over and you lose your Ante bet. Note, if you fold and have played the Pair+, you will lose that bet as well.
If you choose to Bet your hand, the dealer's cards are revealed. This game requires that the dealer's hand qualifies with queen-high or better. When the dealer's hand fails to qualify, the hand is a push on the Bet and the Ante is paid even money.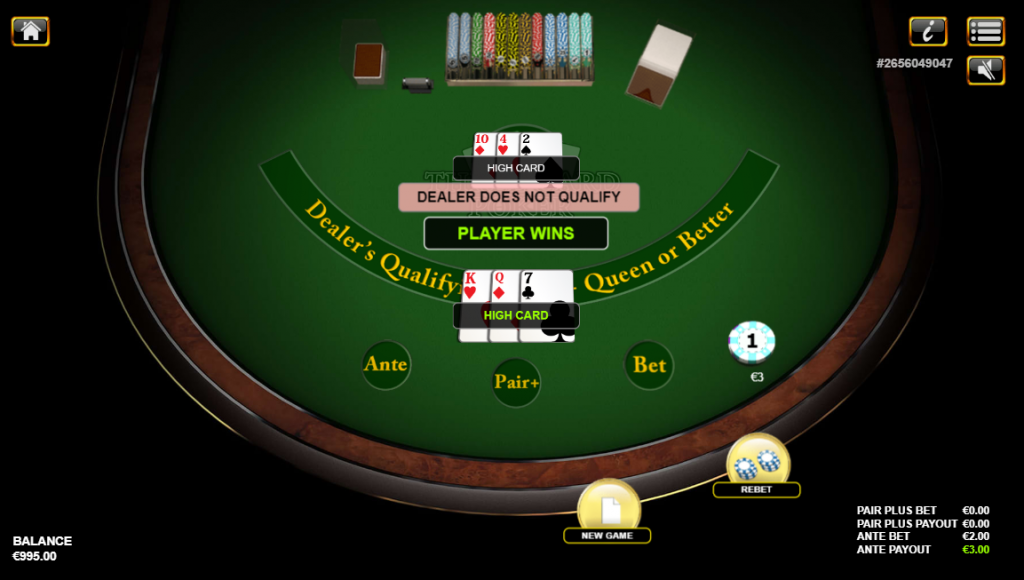 However, if the dealer qualifies and your hand is superior, then both your Ante and Bet bets pay off. The ante still pays off even money, but you will also receive even money on the Bet.
Bonus Hand Payouts
Some versions of this game pay a bonus on the Ante for certain hands. This bonus applies regardless o whether the dealer qualifies. Below are the Bonus payouts:
Straight – 1:1
Three of a Kind – 4:1
Straight Flush – 5:1
For example, if you bet $1 on the Ante and hit three of a kind, you will get back $5.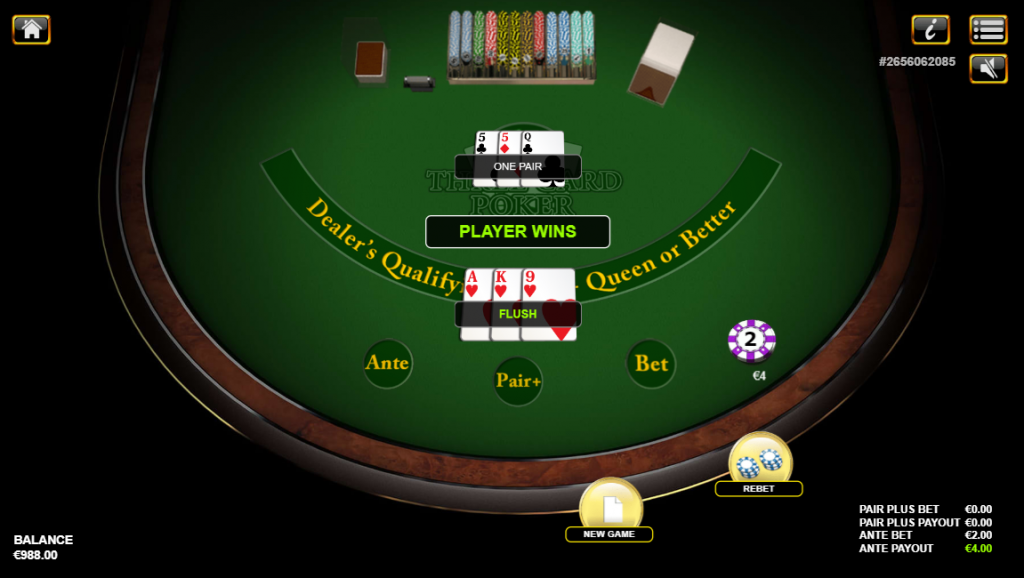 Once game payouts are made, the dealer with then pay any Pair+ bets. Pair+ pays based on the following:
Pair – 1 to 1
Flush – 4 to 1
Straight – 6 to 1
Three of a Kind – 30 to 1
Straight Flush – 40 to 1
Simple Strategy For Three Card Poker
Another reason that Three Card Poker is popular is that the strategy is simple. In this game, your only decision is to play or fold after the deal. We will make that super simple.
If your hand is at least Q-6-4, you will Bet the hand. Otherwise, you will fold. Any hand below this will be an automatic loser when the dealer qualifies.
Next, you should avoid the Pair+ bet. This bet only hits about 25 percent of the time. Here is the expected hand frequency for the Pair+ bet:
Pair – 1 in 6
Flush – 1 in 20
Straight – 1 in 31
Three of a Kind – 1 in 425
Straight Flush – 1 in 460
As you can see, the Pair+ is not profitable in the long term and should be avoided.
Three Card Poker can be found at many US online casinos, including Bovada, Slotto Cash, and Casino Max. It is a fun game you can learn in a flash. Using the strategy outlined above, you'll have the best shot at walking away a winner.