Stravaganza is a popular table game available at UK online casinos and various Playtech casinos around the world. Blackjack players will enjoy the game as it has many elements of blackjack.
This is not a variant of blackjack, so it's important you learn the rules before playing. Today, we will teach you how to play the game and give you some basic strategy on how to play.
How to Play Stravaganza
Most people look at Stravaganza and assume that it is blackjack. While the game has elements of blackjack, it is a different game. The object of the game is to beat the dealer's hand with the highest point total win.

You cannot bust in this game. If you are dealt three face cards, you have 30. Also, note that aces only count as 1 in this game. An ace and a king is 11, not 21.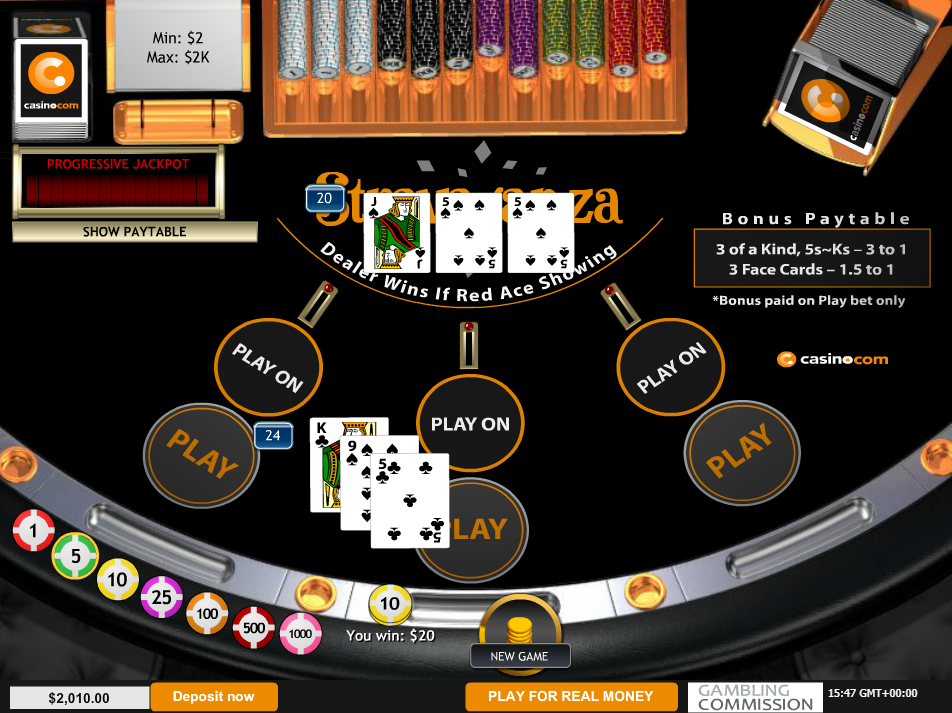 The game starts with a player getting two cards and the dealer receiving three. After the deal, you have a decision to make. If your point total is 10 or more you can either opt to Sit or Play On. When you Sit, you continue playing with the two cards in your hand. If you Play On, you will place a bet matching your Play bet and you will receive a third card.
There are a couple of instances where you can get some or all of your money back depending on your starting cards:
Money Back – If your point total is 5 or less, you can get your money back and end the round immediately.
Rescue Bet – If your point total is between 6 and 9, you can get half your bet returned.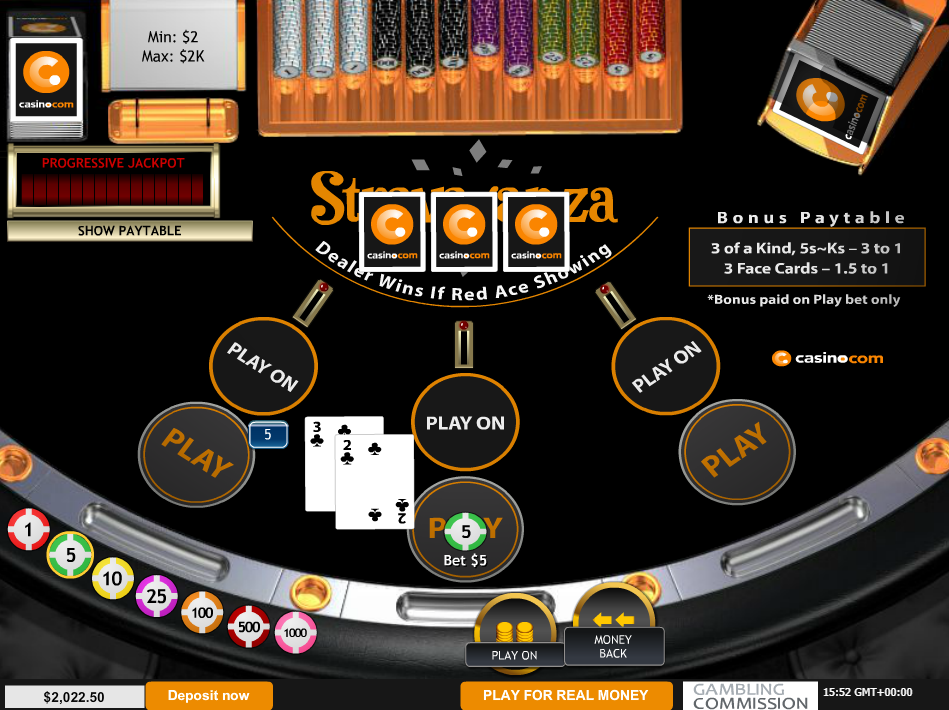 If you opt for Money Back or Rescue Bet, the hand concludes immediately. Otherwise, once you make your decision, the dealer's cards are revealed. The highest hand showing is the winner.
There is an exception to this. If the dealer has a red ace as their first card, you will lose the Play bet and the Play On bet pushes. If the second or third card is an ace, you lose all bets. They win the hand automatically regardless of your point total.
Winning hands are paid 1 to 1 on both the Play and Play On bets.
Lucrative Bonus
This game does feature a bonus that pays out on 3 Face Cards or 3 of a Kind. If you receive 3 face cards, you will receive 1.5 to 1 on your Play bet. If you receive 3 of a Kind, you will receive 3 to 1 on the Play bet.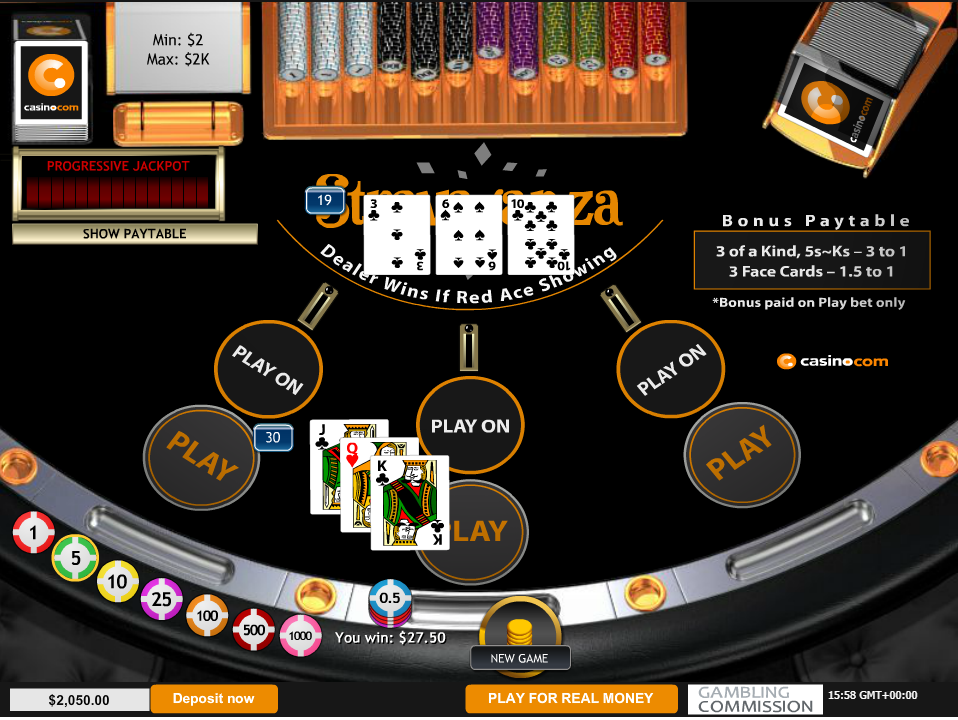 While playing, we were dealt three face cards. We received $12 back for our play bet instead of $10. This is a nice lucrative bonus that does not require an additional wager.
Progressive Jackpot
This game generally offers a progressive jackpot. This optional side bet can be made before receiving cards. To hit the jackpot, you must receive 3 kings of hearts. The matching face cards pays 10 percent of the jackpot.
Here's a breakdown of the non-jackpot winners:
3 of a Kind, Js – Ks – 100x
3 of a Kind – 5s- 10s – 50x
Any 30 – 10x
Optimal Strategy for Stravaganza
Stravaganza has a simple strategy that will help you win the maximum. First, whenever you have the option for Money Back or the Rescue Bet, take it. Your point total is too low to have a realistic shot at winning.
Next, the only time you should opt to Sit with a hand is when your point total is 10. Odds are you are just throwing away your bet. Some strategies recommend you play on with a pair of fives to try and catch the 3 of a kind bonus. If you don't mind the variance associated with that bet, it is still the most profitable play long-term.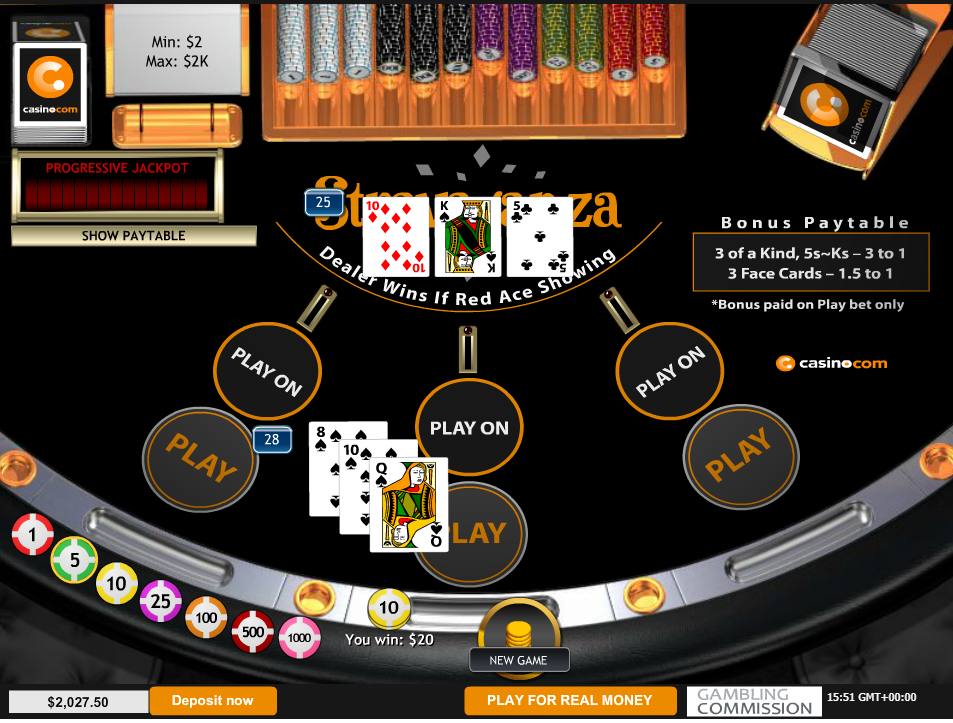 For all other hands totaling 11 or higher, you should Play On to receive a third card. This gives you the best shot at beating the dealer.
Like most table games, we recommend avoiding the side bets altogether. According to Playtech, the RTP for the main game is 97.46%, meaning a house edge of 2.54%. For side bets, the RTP is 72.26% or a house edge of 27.74%. Stick with the above strategy for the main game and you will give yourself the best shot at walking away a winner.