Live Dealer online casino games are extremely popular because they incorporate live poker elements into the online casino world. Side Bet City is a popular poker table game that you will find at online casinos offering Evolution Gaming Live Dealer games.
If you are new to poker table games or want a game that gives you multiple chances to win each hand, this is a game worth checking out. Today, you'll learn how to play Side Bet City and the best strategy to win at the game.
Side Bet City Rules
Side Bet City is a simple poker table game that has elements of video poker and baccarat. It is a simple poker game where your only action is to bet. The object of the game is to make the best hand possible in three separate poker hands.
This game pays out on winning combinations for 3-card, 5-card, and 7-card hands. In each game, seven cards are dealt and payouts are determined after 3, 5, and 7 cards.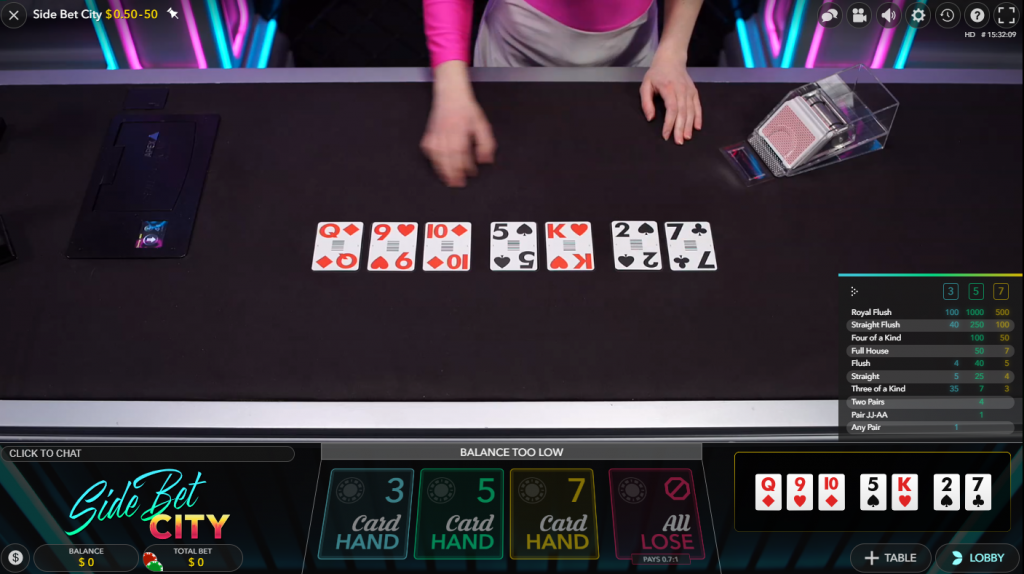 Before cards are dealt, you will place your bets similar to what you'd see in baccarat. If you think that a winning hand will hit in the first three cards, you can bet the 3-Card Hand. If you think a 5-card hand will hit, you can bet the 5-Card Hand. When you think it will take all seven cards to make a hand, you can bet on the 7-Card Hand.
Of course, if you don't think that any of the hands will produce a winning combination, you can bet on All Lose. Note that you can bet on one or all three of the payable hands at the same time.
The great thing about this game is you don't need to know the order of poker hands or how to read hands. The game does this for you automatically.
Side Bet City Payouts
The payouts for Side Bet City are based on the hands made. For a 3-Card Hand, you can make a pair, three of a kind, or any straight or flush up to a Royal Flush. The 5-Card Hand pays out the same hands as a Jacks or Better video poker machine, but just not as well. Finally, the 7-Card Hand pays hands from three of a kind and up.
Here's a screenshot of the payout table for this game.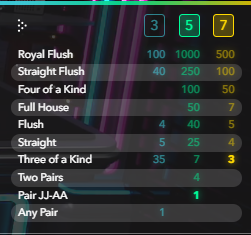 As you'll notice, the 5-Card Hand pays the best except for three of a kind on a 3-Card Hand bet. The All Lose bet pays a flat rate of 0.7 to 1. If you bet $1 on All Lose and win, the game will return $1.70.
Strategy for Side Bet City
Side Bet City strategy is based exclusively on the RTP for each bet. Below is a rundown of the RTP on the four bets available:
3-Card Hand -96.69%
All Lose – 96.29%
5-Card Hand – 95.21%
7-Card Hand – 94.34%
As you can see, there's less than a half percent difference between the All Lose and the 3-Card Hand bets. This makes them the best bets to play overall. If you're looking for the least amount of fluctuation in your online casino bankroll, play one or both of these bets consistently.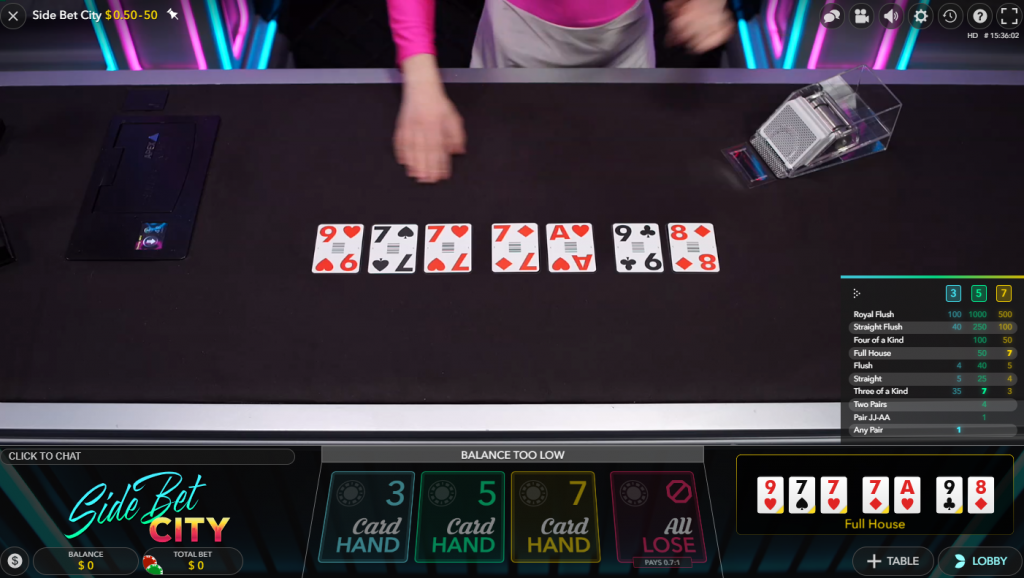 An alternative strategy to play is to play the 3-Card and 5-Card hands at the same time. When you make a pair of jacks through aces, you will automatically win both bets. For other winners on 3-Card Hands, you can still back into a 5-Card winner to win both bets. In the cases where you only make a low pair on the 3-Card hand, you will still break even.
The 7-Card Hand has the lowest RTP and is the hardest to hit since you have to have three of a kind. If you play this bet, you should play it in conjunction with the 3-Hand, and 5-Hand bets.
Side Bet City is available at US online casinos offering Evolution Gaming. It is also available at online casinos in Australia such as Playamo.