Red Dog is a table game that you'll find at some US online casinos. The game is classified as a poker game but is much more similar to games like Blackjack or even Casino War. It is super easy to learn and you'll be a natural after a couple of hands.
Learn more about this game along with some strategy to help you win more when playing Red Dog poker.
Red Dog Poker Rules
While Red Dog is classified as poker, it doesn't look like most poker games. It is a three-card game where the object is to bet whether the third card's rank is between the rank of the other two cards.
For example, if the first card is a 3 and the second card is a 10, you are betting on whether the third card on the table is will be between two and nine. Note that it must be between the two cards on the table. If you tie either card, you lose. Also, aces always play high, so the lowest card is a deuce. Also, suits don't matter, just the ranking.
There are a couple of other rules to note when playing this game. If the first two cards dealt are in numerical sequence, such as 8 and 9, the hand is an automatic push. Next, when the first two cards make a pair, such as K-K, then a third card is automatically dealt. If you hit three of a kind, you get a payout of 11 to 1. Otherwise, the hand is a push.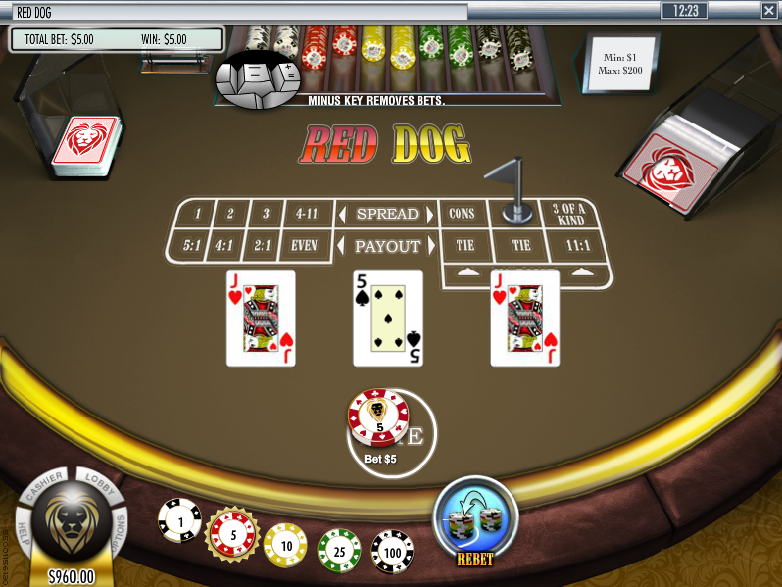 Spread-Based Payouts
Another difference between Red Dog and other table games is that payouts are based on a spread system. In other words, you're paid based on the number of cards between the first two cards. For example, if you are dealt an 8 and 4, there is a three-card gap, creating a three-card spread.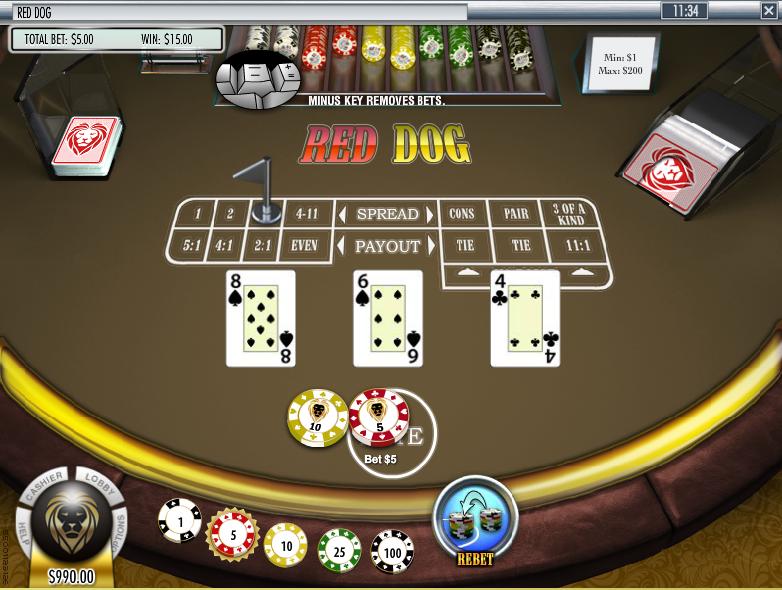 In this game, the smaller the spread, the greater the payout. Spreads of 4 to 11 pay even money and go up accordingly. Here is a quick paytable for this game:
Three of a Kind – 11 to 1
Four to 11 Card Spread – Even Money
Three Card Spread – 2 to 1
Two Card Spread – 4 to 1
One Card Spread – 5 to 1
Consecutive Cards – Push
Pair – Push
Playing a Hand of Red Dog Poker
Before playing a hand of Red Dog Poker, you must ante. Once you ante you will be able to play the entire hand. After you ante and click the Deal button, you will receive two cards. Here you will decide whether to Raise or simply Call. If you opt to Raise, a second bet equal to the ante will be placed. Clicking Call will continue the hand without committing additional bets.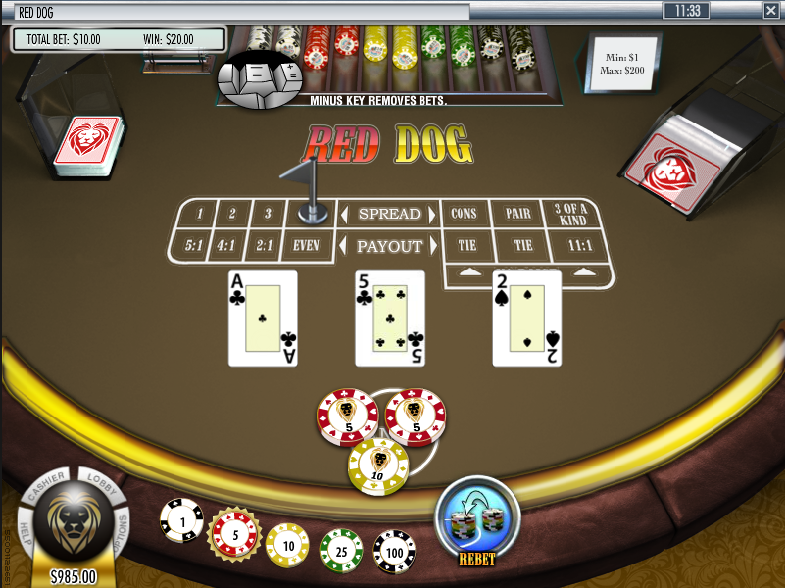 After you Raise or Call, you will receive your third card. If your hand qualifies for a payout, you will be paid. Otherwise, you lose and the dealer scoops up your chips.
Red Dog Strategy
If you're looking for the best strategy for Red Dog, you've come to the right place. The best play for raising is to only do so when you have spreads of 7 cards or greater. The reason is that your win rate is 54.2% with spreads of 7 or greater. These odds jump up to 85.2% when you have an 11-card spread.
It will be tempting to gamble and raise when you have a three-card gap or less, but you'll have a negative edge in these spots. Remember, your initial ante will play regardless so when you get lucky, you'll still win without adding unnecessary risk.
Red Dog Poker is available at online casinos such as Golden Lion Casino. It is one of the easier table games you'll find at online casinos and one you should try when you're looking for an alternative to video poker or blackjack.