If you love video poker or table poker games, then you should check out Poker Pursuit. It is a popular poker game available at the best online casinos. It has similarities to video poker and is a great transitional game for poker players.
Continue reading to learn the rules of Poker Pursuit, how much you can win, and a basic strategy for playing the game.
How to Play of Poker Pursuit
When you first look at Poker Pursuit, you'll notice that it is essentially a table game version of video poker. The difference is that the game allows multiple bets per hand and hands are dealt Texas Hold'em style.
Prior to receiving cards, you will need to place at least $1 in the Click to Bet box. Click on the Deal button to receive your first three cards. This is known as the flop in Texas Hold'em poker.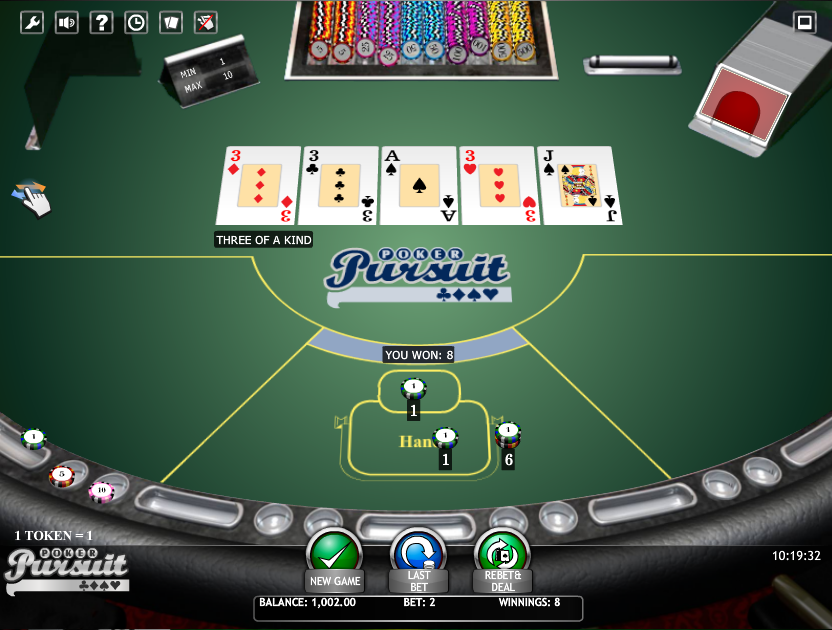 At this point, you will make your first decision. You can raise or pass. If you raise, you will place a bet equal to your initial ante bet. If you bet $1, subsequent bets will be $1. You can also pass on betting and move on to the next card.
After you've made your decision, the fourth card will be dealt. This is called the turn in Texas Hold'em. You will again decide whether to bet or pass.
Once you make your turn decision, the River card will be deal. This final card will complete your poker hand. Now your hand is compared to the payout chart and any winners paid out.
Poker Pursuit Payouts
Payouts are determined based on holding a hand of tens or better. If the payouts for this game were available in standard video poker, it would be the most popular game amongst players.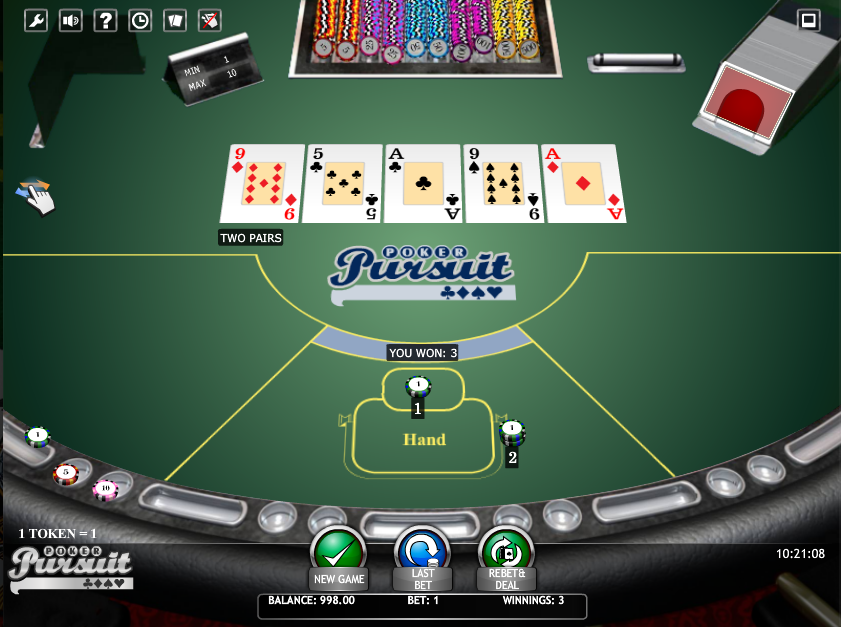 This is the paytable you'll encounter on most Poker Pursuit games at US online casinos:
Royal Flush – 999:1
Straight Flush – 199:1
Four of a Kind – 49:1
Full House – 11:1
Flush – 8:1
Straight – 5:1
Three of a Kind – 3:1
Two Pair – 2:1
Pair of Tens or Better – 1:1
One advantage of playing this game over standard video poker is that you can bet multiple times per hand. When the hand pays off, you get paid off on every bet. Bet $3 and hit three of a kind and you'll get back $12.
Poker Pursuit Strategy
When playing Poker Pursuit, playing proper strategy is important to maximize your odds at winning. Since you cannot trade cards like in video poker, you need to adopt a solid strategy.
As a general rule, you will on raise on the flop or subsequent streets when you have a pair of tens or better. This will maximize your winnings. There's no shame on passing when you don't have a winning hand as you cannot fold.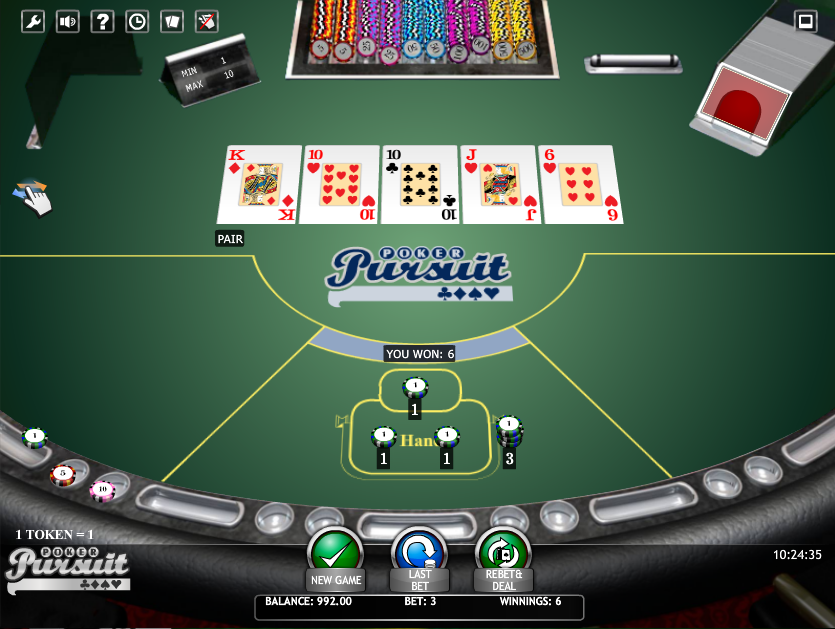 For those that like to play the odds, there are a couple of times you can bet without a winning hand. The first instance is when you have a non-paying pair on the flop or turn. Since you will have between 10 and 14 outs to improve your hand, a bet isn't the worst move you can make.
The other instance is when you have a four-flush or four to a straight. When betting the flush draw, you have nine outs to improve your hand. For straights, we recommend either betting open-ended straight draws or straight draws with cards ten or higher. The high cards will give you additional outs to win.
Poker Pursuit is the perfect game for video poker players or poker players looking to transition into online casino games. By employing the strategy above, you can reduce bankroll fluctuations and give yourself the best shot at winning.