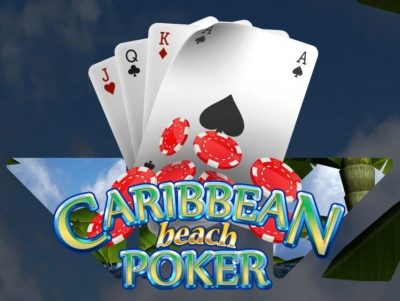 You've likely played Caribbean Stud and even Caribbean Hold'em, but now it is time to head to the beach. Caribbean Beach Poker is a variant of Caribbean Stud spread at many of the best online casinos. The primary difference is that you are able to draw cards to improve your odds of winning.
Today, you'll learn how to play the game along with some strategy to help you win more often.
Rules for Caribbean Beach Poker
Caribbean Beach Poker is a poker table game released by Wazdan. It is very similar to Caribbean Stud but with one key difference. In this game you can draw cards.
Otherwise, the game is fairly easy to play. Before receiving cards, you must make an Ante bet. Once placed, you'll get five cards face up and the dealer will get cards. You will only see one of the dealer's cards.
Now is where you will decide whether to draw, play, or fold. If you opt to fold, the hand is over. When you choose to draw cards, you can select which cards you want to keep by clicking on them. This will place a Stop circle on them. The game will automatically put stops on all kings, aces, or any pair. You are not required to keep those stops and they can be removed by clicking on them.
If you choose to draw, click the cards you want to keep and then click the Change button. You'll be charged the same amount as the Ante and cards will be drawn. Now you can decide whether to play the hand or fold. If you play the hand, you'll click the Hit button and a raise bet of double your ante will be made.
Note, that you do not have to draw cards. You can opt to simply play your hand without drawing. Once you have played your hand, the dealer's hand will be exposed and the winner declared.
Showdown and Payouts
After the dealer's hand is exposed, the winner is determined. The dealer must qualify with at least A-K before the Raise bet will pay. If the dealer doesn't qualify and your hand is the winner, you'll get 1 to 1 on your Ante and the Raise bet pushes.
If the dealer qualifies, you'll still get 1 to 1 on the Ante and the Raise is paid based on the following paytable:
Royal Flush – 100:1
Straight Flush – 50:1
Four of a Kind – 20:1
Full House – 7:1
Flush – 5:1
Straight – 4:1
Three of a Kind – 3:1
Two Pair – 2:1
One Pair or High Card – 1:1
Caribbean Beach Poker Strategy
The main difference in strategy between this game and Caribbean Stud is whether you should draw cards. Typically, you'll fold all hands where you don't have A-K-10 or better. However, you should consider drawing cards in certain circumstances.
Here are instances where you can consider drawing when you don't start with A-K-10 or better:
Any Ace
Any King
Two or More Face Cards
Four Cards to a Straight
Four Cards to a Flush
Otherwise, you'll be better off to fold you hand and wait for the next hand. One reason we recommend drawing with these hands is that the draw only costs the same as the Ante and is a single bet. Some table poker games charge you for every card drawn. If that were the case, drawing would be cost prohibitive. Also, if you draw and fail, you can still fold.
Also, when you already have a hand of a pair or better, consider drawing to improve your hand. If you have a pair of Aces, draw three or hold a face card and draw two. If you have three of a kind, invest the extra dollar to try and improve to four of a kind.
Drawing cards will cost you a bit more money but will also help give you the best chance of scoring a big winner. Caribbean Beach Poker is available at Casino Max and most real money online casinos offering Wazdan online casino games.