UK online casinos offer a variation of 3 Card Poker known as 3 Card Brag. It has many of the same rules of 3 Card Poker, but the hand rankings are a bit different. Also, the game has a lower house edge than 3 Card Poker.
Playtech offers 3 Card Brag at various online casinos in the UK in both standard and Live Dealer game format. Learn more about how to play the game and the strategy to win more.
How to Play 3 Card Brag
3 Card Brag looks very similar to 3 Card Poker, but it is a slightly different game due to hand rankings. In this game, a Prial is the top hand. A Prial is three of a kind. Otherwise, the game looks and plays a lot like 3 Card Poker.
Prior to receiving cards, you must make an Ante bet. You can also may a Pair Bonus side bet which is based on the three cards dealt to you.
After placing your bets, you and the dealer will receive three cards. You can then decide whether you want to Play or Fold. If you Fold, the hand ends right there. When you choose Play, a bet equal to your Ante is placed.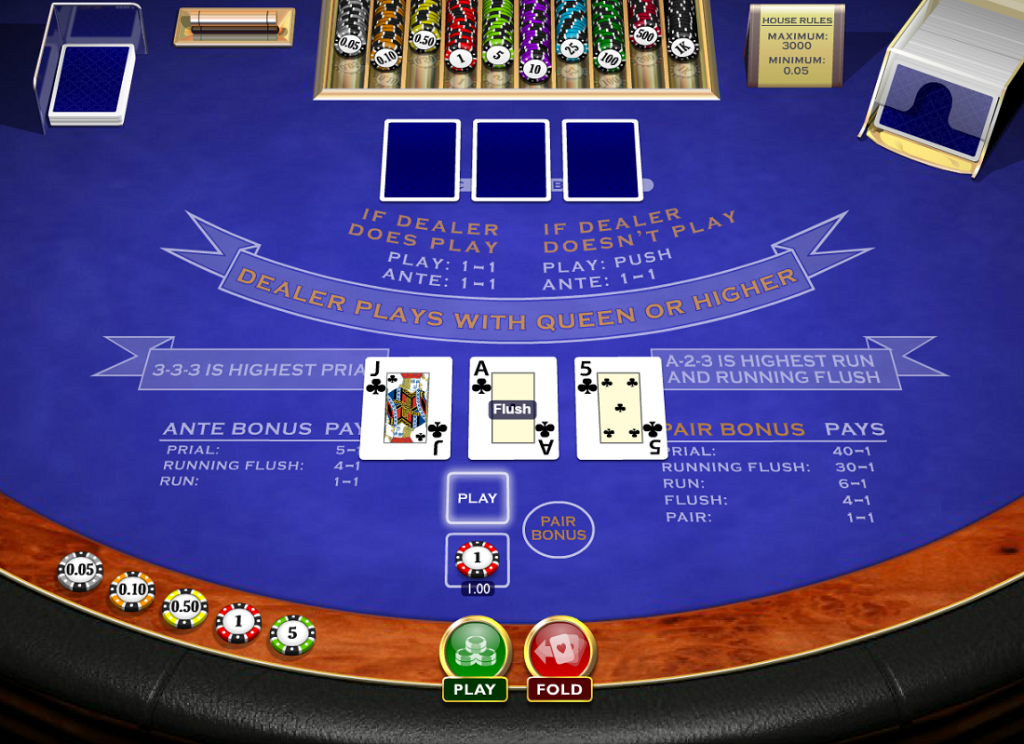 If you Play, the dealer reveals their hand. The dealer only plays if they have a Queen or higher in their hand. If that happens and your hand is best, you win 1 to 1 on your Ante and the Play bet pushes.
When the dealer plays and your hand is superior, you get 1 to 1 on both your Ante and Play bets. The Ante also pays a bonus on top hands, as follows:
Prial – 5 to 1
Running Flush – 4 to 1
Run -1 to 1
Pair Bonus Payouts
If you choose to play the Pair Bonus, you will be paid whenever you have a pair or better. This pays off regardless of the outcome of the hand. If you have a pair and the dealer has a run, you still are paid off on the Pair Bonus bet.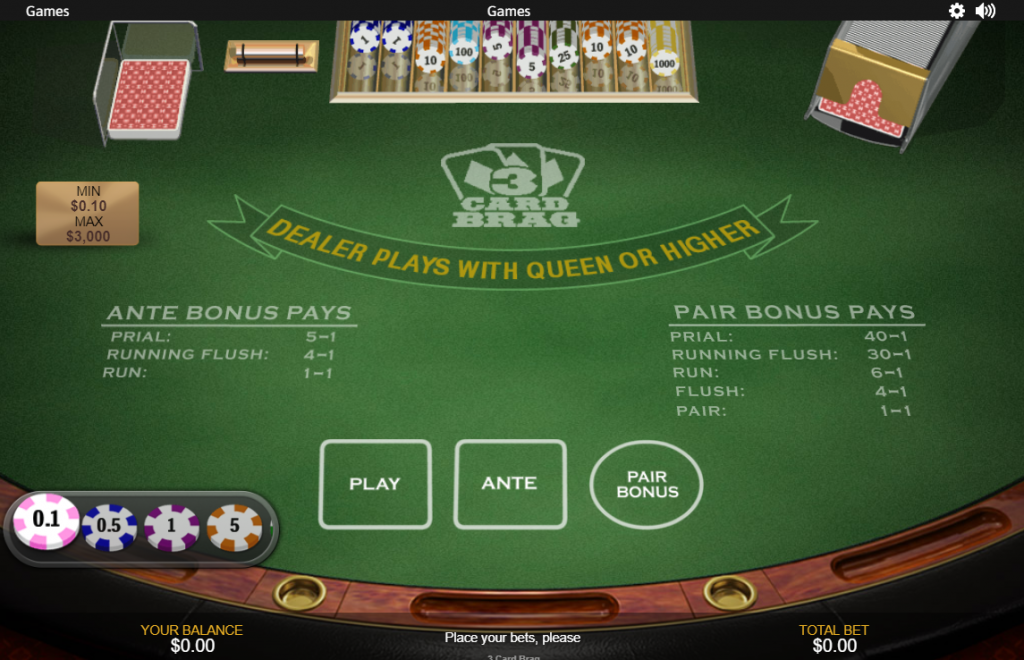 Below is the payout chart for the Pair Bonus Bet:
Prial – 40 to 1
Running Flush – 30 to 1
Run – 5 to 1
Flush – 4 to 1
Pair – 1 to 1
Three Card Brag Strategy
If you know how to play 3 Card Poker, then you can apply a 3 Card Poker strategy to this game. As such, whenever you have a hand of Q-6-4 or higher, you will bet your hand. All other times you will be folding. Playing anything under Q-6-4 makes it impossible to win whenever the dealer plays.
Next, let's talk about the house edge on this game. The Ante game has a house edge of 3.35%, which is slightly lower than 3.37% you'll find on the average 3 Card Poker game. Next, the house edge on the Pair Bonus is decreased from 2.32% down to 2.14%.
Normally, we don't recommend playing side bets. However, with a house edge of just over 2%, this is one of the better ones to play. Granted, you will be risking double your normal stake each hand, so take that into consideration before playing.
For those playing at UK online casinos, 3 Card Brag is definitely a game you should try. With a lower house edge than 3 Card Poker, you will lose less over the long-term. The game is spread at Bet365, Mansion Casino, and Casino.com. Each casino offers an awesome welcome bonus to new players and is available for play on PC, mobile devices, and even on Linux.