We continue looking at Halloween-themed slot games this week with Halloween Treasures. Halloween Treasures is a new 5-Reel, All-Ways Pay video slot game from Real Time Gaming. The game features high paying symbols, an easy to unlock Free Games Feature and four progressive jackpots.
Spookily Fun Pay Symbols
As you would expect, the pay symbols on this game all have a spooky Halloween theme. Like most RTG slot games, this one pays out in credits. Bet increments are between .01 and .10 per credit and you must play at least 8 credits per spin. To receive a prize, you must land three pay symbols on a line.
This game has 11 pay symbols on the base game along with a payable scatter. Below are the base pay symbols for this game:
Golden Orb – Highest paying symbols, paying between 8 and 100 credits.
Jack-O-Lantern – Pays 5 to 30 credits
Vampire – Pay 5 to 30 credits
Witch Hat – Pays 5 to 20 credits
Candles – Pays 5 to 20 credits
Royals (9 through Ace) – Pays 5 to 15 credits
The crystal ball is this game's scatter. It pays 5 credits when you land three, 10 when you land four, and 50 when you land five on the board.
There are two wild symbols for this game. The front spooky front door is the main Wild and appears on reels 2, 3, and 4. It substitutes for all symbols except for the Gravestone wild.

The other Wild is the Gravestone. It only appears on Reel 3 and plays for all symbols except for the Wild and the Scatter.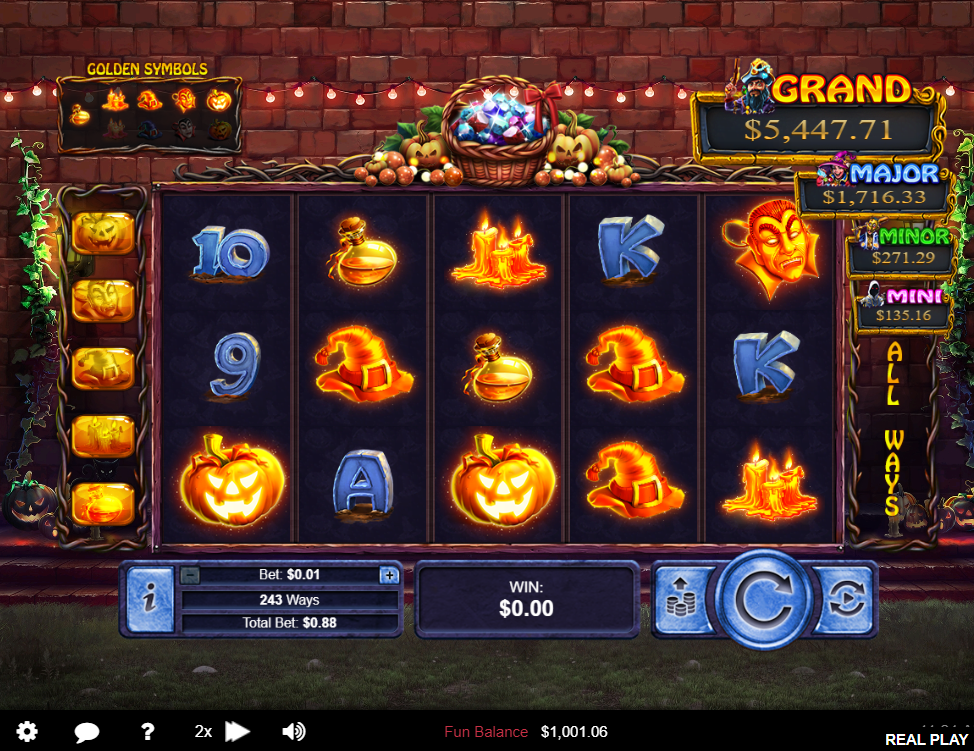 Golden Orbs
This game features a set of Golden Orb that increases the amount you bet each spin. They are located at the side of the game window. The first, the golden potion is automatically selected. For the other four, your bet is multiplied as follows:
Golden Candles – Adds 10x to your bet
Golden Vampire – Adds 30x to your bet
Golden Witch Hat – Adds 60x to your bet
Golden Jack-O-Lantern – Adds 80x to your bet
If a gravestone makes a winning combination when you have one of the above orbs selected, your prize win is multiplier as follows:
Golden Candles – 2x multiplier
Golden Vampire – 3x multiplier
Golden Witch Hat – 4x multiplier
Golden Jack-O-Lantern – 5x multiplier
Golden Orb symbols are also paying reel symbols. Payouts for when you land three or more Golden Orbs are below:
Golden Candles – Pays 10 to 150 credits
Golden Vampire – Pays 30 to 300 credits
Golden Witch Hat – Pays 20 to 200 credits
Golden Jack-O-Lantern – Pays 60 to 600 credits
Scare Up Big Wins With Free Games Feature
If you land three or more Crystal Ball scatters on the board, you will unlock the Free Games Feature. You will be awarded 12 free spins and all the Royals will be removed from the board. This allows for larger wins. Also, this feature can be retriggered.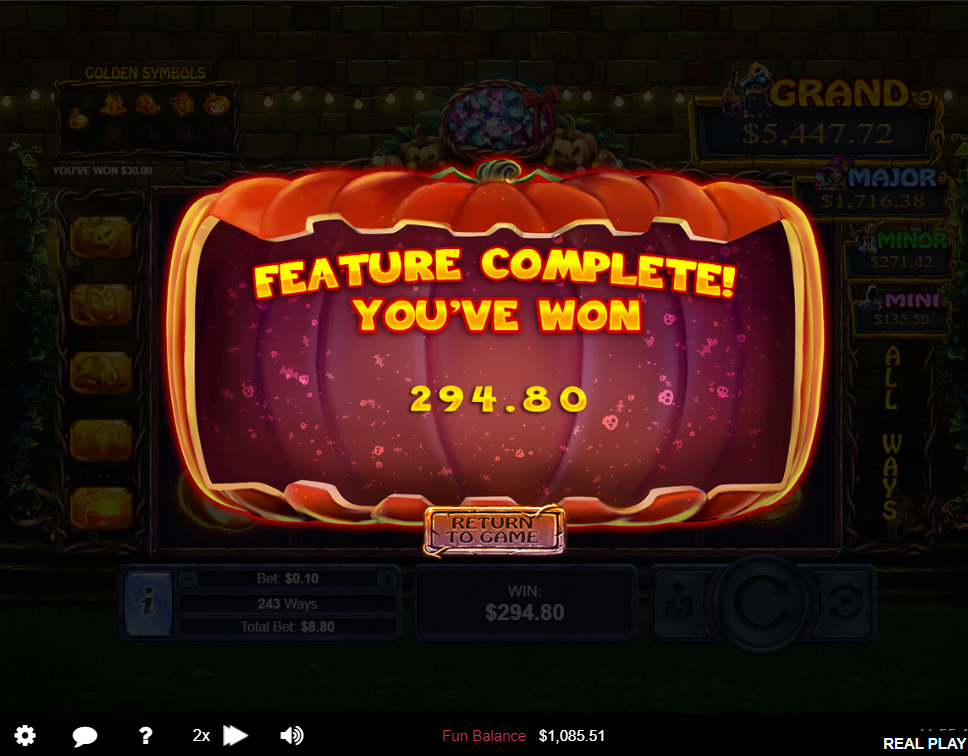 One thing we really like about this game is that the main Wild can substitute for the Scatter. That was very helpful as it allowed us to unlock the bonus feature twice during this game. The second time we hit it was when we played all the Golden Orbs and we netted a nice win of 33x our initial bet.
Four Progressive Jackpot Prizes
Just when you thought this game couldn't get any better, it does! Halloween Treasures features four progressive jackpot prizes. To be eligible for a progressive jackpot, you must play one of the optional golden symbols. The more symbols you play, the more jackpots you unlock.
Here are how jackpots are unlocked:
Golden Candles – Mini
Golden Vampire – Minor and Mini
Golden Witch Hat – Major, Minor, and Mini
Golden Jack-O-Lantern – Grand, Major, Minor, and Mini
Jackpots are unlocked by the random Halloween Jackpot Feature. Twelves coins will appear on your screen and if you match three or more jackpot symbols, you win that jackpot.
The jackpot symbols are as follows:
Pirate – Grand
Witch – Major
Ghoul with Bat – Minor
Hip Hop Ghost – Mini
Another way to hit the jackpot is through the main Wild. At random, the Wild may award an available jackpot. If more than one jackpot prize is available, then you will trigger the Halloween Jackpot Feature to determine the prize.
The Mini and Minor jackpots are smaller jackpots, generally under $300. The Major Jackpot is between $1,000 and $2,000. The Grand jackpot is worth at least $5,000.
Fun Halloween Themed Slot Game With Tons of Bonuses
Halloween Treasures is a fun video slot game that reminds us why we love Halloween. While spooky, it is the fun sort of spooky that we loved as children and seek to recreate as adults. This game has a great bonus feature along with four progressive jackpots, allowing you plenty of opportunities to win some money for some extra Halloween candy.
The only real downside we see with this game is that its RTP is 95%. This is a bit lower than your average online slot game, but still a lot better than you will get in a live casino. Halloween Treasures is a fun new Halloween-themed game you can find at US online casinos featuring Real Time Gaming products, and one that all lovers of Halloween should check out.