Wild Fire 7s is the latest 3-Reel, 5 payline slot game from Real Time Gaming. The game is a fresh take on fruit slots that has a special multiplier reel. The game offers generous multipliers, a free games feature, and a progressive jackpot. Let's learn more about this new fruit slot offering.
Fruit Slots With a Multiplier Twist
Wild Fire 7s is Real Time Gaming's freshest take on fruit slots. The game looks like your standard 3-Reel, 5 payline game, but it has an extra multiplier reel. This reel gives you the chance to trigger a multiplier and other special prizes. However, let's first look at the base game.
The base game has a simple paytable structure, there are cherries, bars, and three sets of sevens. Cherries and mixed bars are your low-paying symbols. Single, double, and triple bars are your medium paying symbols. Purple 7s, Blue 7s, and Triple 7s are your highest paying symbols. Triple 7s pay 500 credits on a winning payline. Credits are 1/5th of your bet. If you're playing .50 per spin, you can win $50 on a Triple 7.
There are three special features tied to the multiplier reel of this game. Let's look at them.
Multipliers
The primary function of the multiplier reel is to give you a shot at winning a multiplier. Multipliers range from 2x to 5x. If a multiplier lands and you have a winning combination anywhere on the board, that win is multiplied. Note that the game design makes it look like you have to hit the middle payline to trigger the multiplier. That is not the case.
This multiplier triggers quite frequently and can result in some nice wins, especially if you happen to make a multi-line win. While 2x and 3x will hit most frequently, I did get a few 4x and 5x wins too.
Free Spins Game
If the Free Games symbol lands on the multiplier reel, you will trigger the Free Games feature. When this triggers, you will get 7 free spins and a 5x multiplier that will apply to all wins. Spins play at the triggering bet. Free spins cannot be re-triggered.
This feature triggers fairly regularly, but I was very disappointed with the results. The most I won was 3x my bet. This feature would be improved if it paid a bit better, even if it was a bit more difficult to trigger.
Progressive Jackpot
If the 7 Jackpot symbol lands on the multiplier reel, the jackpot will be triggered. There are no wagering requirements to qualify for the jackpot. Whatever the jackpot is at the time of triggering will be added to your total.
The jackpot for this game is somewhat small compared to other games. Prizes will generally range from $500 to $1,000. If you play lower stakes, this would be a lovely jackpot to boost your online bankroll.
Wild Fire 7s A Disappointing High Variance Fruit Slot Game
Normally, I love a good fruit slot game. They tend to pay out a bit better than your average video slot game. Unfortunately, Wild Fire 7s is a bit too high in variance for my liking. Real Time Gaming slots can be a bit tight in general, but this game ramps it up a notch.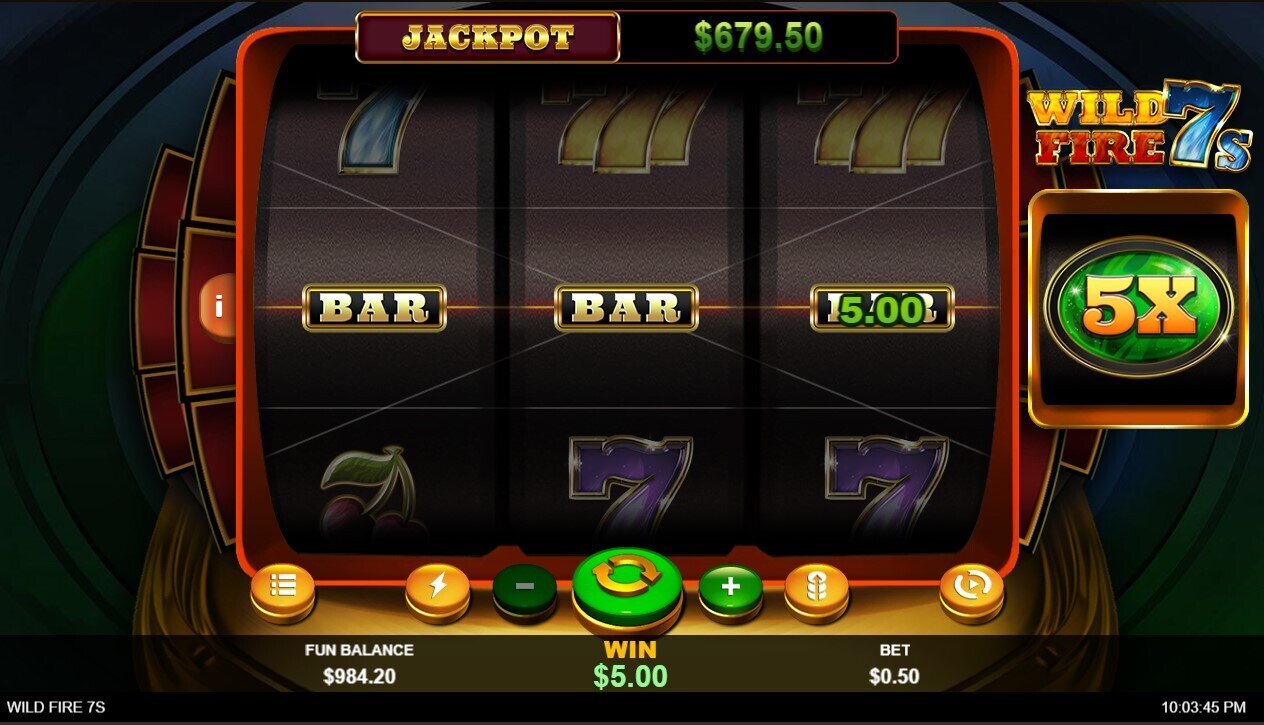 The biggest disappointment in this game is the free spins feature. Free spin features generally help you recoup a good amount of your losses chasing them. For this game, the free games feature is hardly worth the effort. This game is best suited for those that like to chase jackpots, although the jackpots are a bit small.
You can find Wild Fire 7s at Roaring 21 Casino, Slotto Cash Casino, and all real money online casinos offering Real Time Gaming slots. Low-stakes players should probably avoid this game completely. Jackpot chasers may enjoy this game, but there are others more worth your time.