Are mad scientists really mad or just misunderstood? Dr. Winmore is the latest online video slot game from Real Time Gaming. It has a fun concept along with solid graphics and sound with gameplay that reminds us a bit of some classic Nintendo video games.
While we love the concept, the game proved to be a bit disappointing as it does not offer the same features that we've come to expect from comparable slot games. Learn more about the game and some of the US online casinos it is available.
Cascading Symbols and Multipliers Main Feature
When we first saw Dr. Winmore, the first thing that came into our head was the classic Tetris variant, Dr. Mario. The evil Dr. Winmore even looks a bit like Wario from the Mario franchise.
The game is a 5-Reel game that pays whenever you match four symbols or more either horizontally or vertically adjacent. Diagonal lines do not pay in this game. Paying symbols include a variety of mad scientist equipment such as test tubes, beakers, and most anything you could use to make Frankenstein's monster.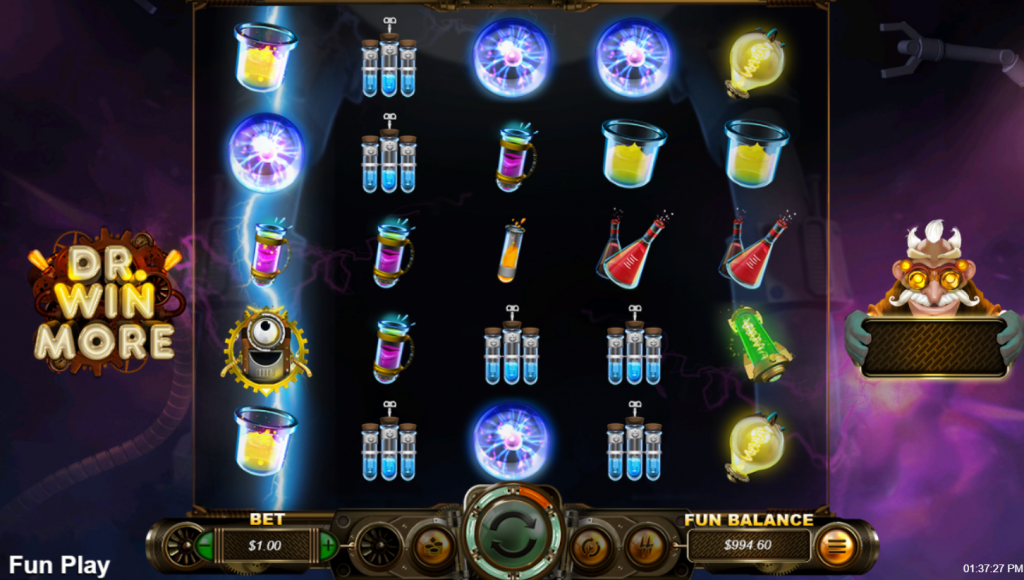 The game is based on a credit system, with each credit worth .10x of your bet. One thing we do like about this game is that most symbols turn a profit on four symbols. The lower paying symbols turn a profit on five symbols. As such, you have a better shot of winning more. Get it. See what we did there?
Dr. Winmore serves as the Wild symbol in this game and substitutes for anything except for the special robot symbols. There are no scatters in this game.
Whenever you make a winning combination, the winning symbols are vaporized and the columns drop down. When this happens, a multiplier is activated. Cascading continues until no wins are achieved. Each time a cascade hits a winning combination, the multiplier moves up 1x up to a max of 6x.
Robots Help Clear the Way
There are four special robot symbols in this game that will help clear the board and give you a chance at a cascading win. Here a screenshot of the four robot symbols available in the game.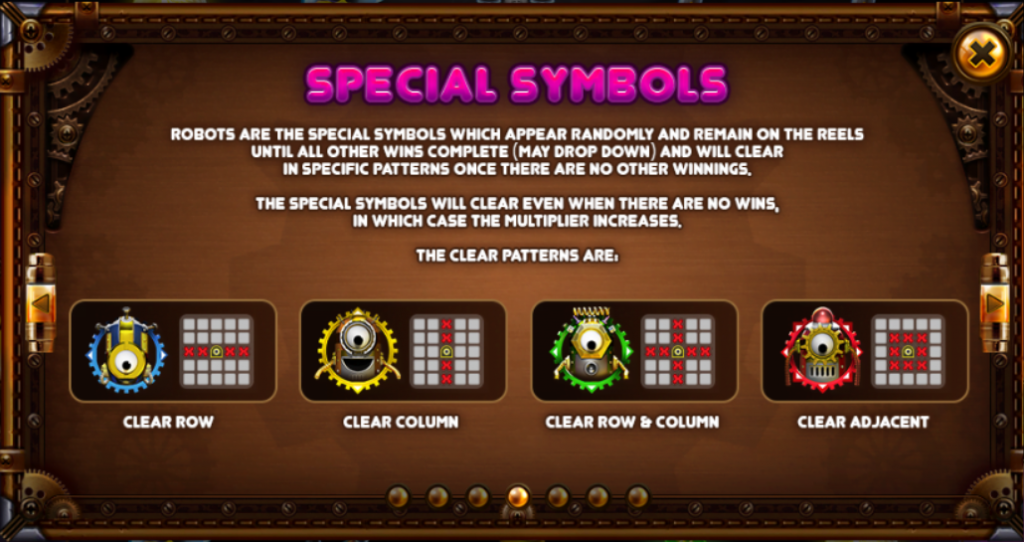 When a robot appears on the screen, it will wait for any wins to clear and then it will clear additional symbols based on its pattern. The robot will either activate or add to the existing multiplier and the symbols will then cascade.
Multiple robots can appear on the screen at the same time, clearing additional symbols off the board. Robots can appear during cascades as well.
Dr. Winmore Leans Towards High Variance
I really wanted this to be a great game, but I ended up leaving this game very disappointed. For starters, the main cascading wins feature seldom produced any additional wins. When it did, it was a single small win that left me more annoyed than satisfied.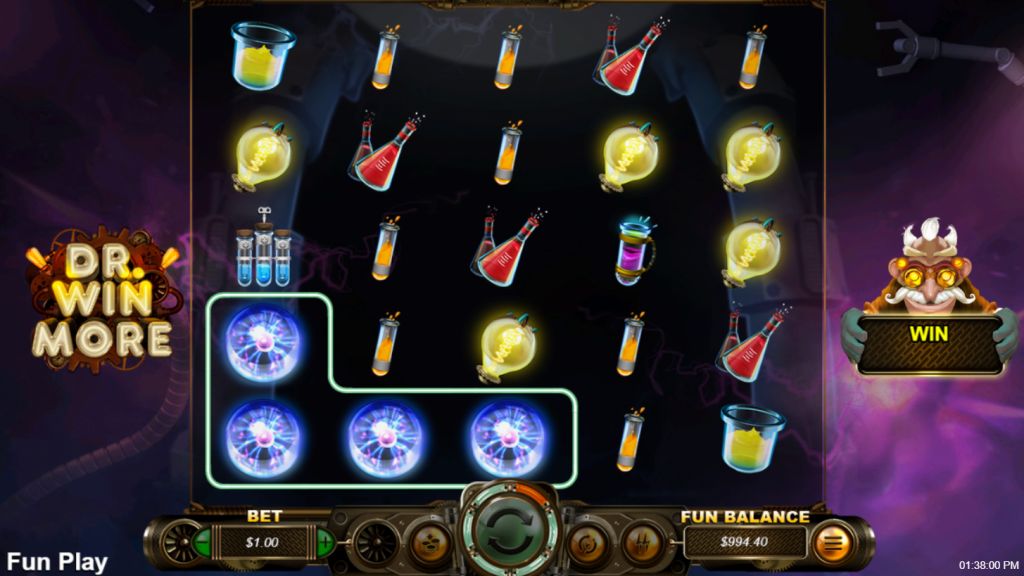 Then there are the robot helpers. Sure, they come along fairly regularly, but again, they seldom helped to create winning combinations. It's like carnival games that promise that everyone is a winner, yet the prize that everyone is guaranteed is something you can get out of a .25 gumball machine.
Dr. Winmore has a fun concept, but the game plays like a high variance slot machine. As such, most beginners or those looking to maximize their online bankroll should avoid the game. I also would not recommend this game for those looking to clear online casino bonuses.
Dr. Winmore is available at Casino Max and any online casino offering Real Time Gaming slots. While a fun concept, there are other lower variance games that are worth your time.