Have you ever dreamed of going on an African safari? If so, you may like Diamond Rhino. Diamond Rhino is the latest 5-Reel, 720 Play Ways online slot game from Rival. The game features multiple bonus features along with a progressive jackpot.
Go on Safari and Win Prizes
Diamond Rhino is an African safari-themed slot game from Rival. The game is a 5-Reel slot game but features a 2-3-5-3-2 board. It is a both ways pays with 720 ways to win. Basically, you can get 3 or more icons in a row from left to right or right to left to win.
This game has a mix of low and high paying symbols. The lowest paying symbols are Royals. You will not turn a profit with Royals unless you hit 5 of a kind aces. The hyena, crocodile, flamingo, lemur, and raven are the medium paying symbols. You need four of a kind to turn a profit.
The highest paying symbols are the cheetah, lion, bison, and elephant. The elephant is the top paying symbol.
Wild symbols replace any other symbol other than the scatter. If two or more appear on top of each other, they stack and create a multiplier. The multiplier ranges from 2x to 5x depending on how many are stacked.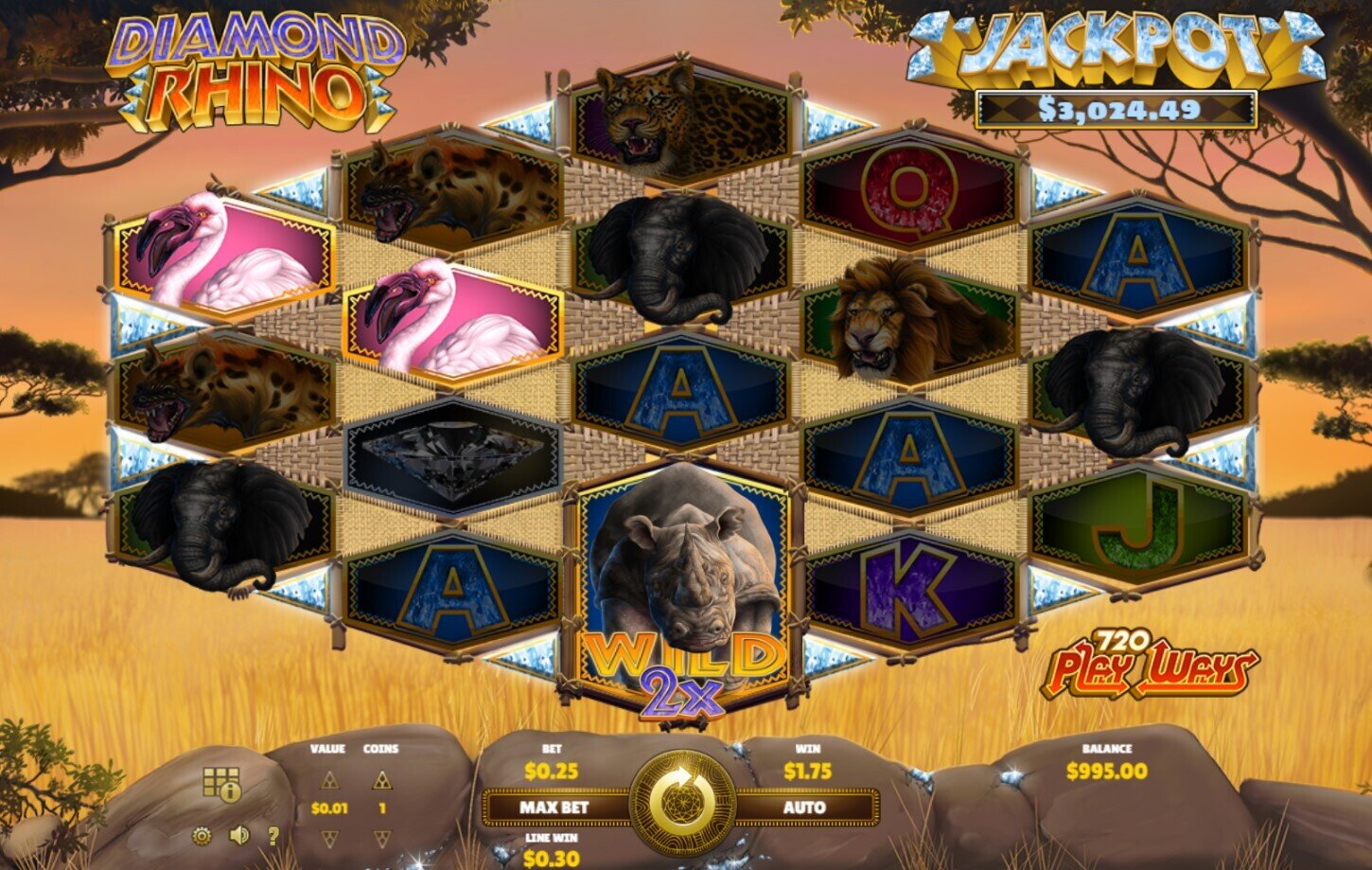 One thing I like about this game is that you get a lot of winning spins. Many are lower-paying, but many players will enjoy getting a few smaller wins frequently than going 10 spins in a row and now winning a penny.
Scatter Wins
The black diamond is the scatter for this game. Land three or more on the board and you will get free spins. You'll get 3 free spins for three diamonds, 10 free spins for four diamonds, and 15 free spins for five diamonds.
There are no special features during the free spins game other than scatter win amounts being multiplied by the number of currently active lines. This feature triggers quite regularly and I was able to trigger it six times during testing.
Granted, I did not win anything massive, but I won at least 2x my initial bet each time. The most I won was about 10x my bet.
Progressive Jackpot
There is a progressive jackpot in this game, but in order to qualify, you must play max credits. When you play max credits, if you catch five jackpot symbols on the board, you will trigger the jackpot. The jackpot is the low thousands and you have to play $2.50 per spin to qualify.
I'm not a fan of max credit progressive qualifiers. Now if the jackpot was larger, say $50,000 or more, then maybe I could see playing max credits to chase it. Otherwise, you can skip the progressive.
Don't Let the Low RTP of Diamond Rhino Scare You Away
Rival slot can be hit or miss, but Diamond Rhino is a bit hit. It has a fun theme and the frequent wins will keep you afloat while trying to hit the bonus game or chase the jackpot.
Some of you are going to see the 93.99% RTP of this game and look elsewhere. I would encourage you to do otherwise. This game is as close to a low variance slot game as you will find at real money online casinos.
I played this game for close to 40 minutes and never was down more than $5. Granted, I was never up more than $5 either. In the end, I finished up about $1. Not a ton, but if I won $1 every time I played slots, I'd be a happy gambler.
Diamond Rhino isn't going to make you rich, but it is a fun slot game to play that won't bust your bankroll. You can find this game at Golden Lion Casino and all online casinos offering Rival slots.