777 is one of the newest online slot games from Real Time Gaming (RTG). Although 777 is based on an old theme, it features modern graphics and excellent gameplay. The presence of a progressive jackpot is one of the most interesting features.

If you crave the classic 3-reel and single payline slot experience, uncluttered with excessive bonus features, you will enjoy 777 slots. It comes with an RTP of 97% along with three jackpot prizes. Learn more about this fresh new game from RTG and a couple of places where you can play this game today.
Single Payline Payouts
This game features a single payline that runs through the center of the middle reel. If you land a winning combination of symbols on this payline, you will win the prize. Below is the paytable for this game:
Any One Wild – 2
One of Each Bar – 5
Any Two Wilds – 10
Three Single Bars – 10
Three Double Bars – 20
Three Triple Bars – 40
Three Sevens – 100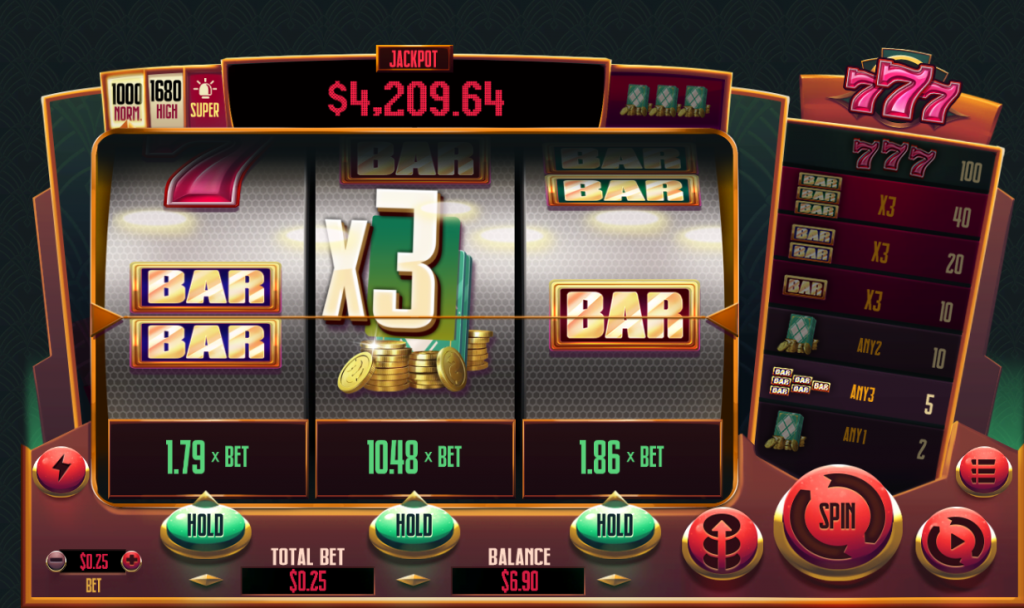 Lucrative Symbols and Special Features
777 is based on the classic old-school slot design. However, the game has some interesting features, as follows:
Wild Symbol – The wild symbol can substitute for all the other symbols on the reels. If you use the wild symbol to create a winning combination, your payout will be tripled. If you use two wild symbols, your payout will be multiplied by nine.
Hold Feature – After each spin, you can hold up to two reels by clicking on the Hold option beneath them. You can hold any symbol on the paytable, including the wild.


Each reel held will have a bet value assigned based on how much you can win. For example, if you hold a 7, you will only bet .91x your initial bet. However, holding a Wild will cost your at last 9.91x your bet.
Holding two reels will increase your total bet based on that symbols three symbol prize. Holding two wilds is the most expensive bet at 100 to 109x your bet based on your stakes. You can hold unlimited times unless you hit three wilds, at which point you've hit one of the three jackpots and all holds are released.
How to Win the Progressive Jackpot
777 is not just an ordinary classic slot. It actually gives you the opportunity to win a progressive jackpot.
If you bet between .25 and .75 and you land three wild symbols, you will win a jackpot of 1000 coins. When you bet between $1 and $2.25 and land three wild symbols, you will win a jackpot of 1680 coins.
Finally, a max bet of $2.50 is considered the Super Bet and if you land three wild's, you hit the jackpot prize.
Note that you can hold wild symbols to increase your odds of hitting the jackpot, but it is extremely expensive.
Go For One of Three Jackpots on 777 Slots
Many casinos featuring Real Time Gaming slots are presently offering 777. Two casinos that we recommend playing 777 at are BoVegas and Slotto Cash. Slotto Cash even has a special offer for those wanting to try 777.
Just deposit $20 or more using code 777-77SP and get a whopping 450% match bonus along with 77 free spins on 777. This code is a great way to try out 777 and get some bonus cash to play other online casino games you enjoy.
If you are used to multi-line slots with multiple bonus features, this slot is going to bore you. But as a classic slot, it is one of RTG's best as it has a high RTP, a hold feature, and a progressive jackpot.