If you're into skill-based slot games, then you should check out Real Time Gaming's latest game. Fish Catch is a fun fish-shooter slot game that gives you a chance to win a prize with every shot (or bet) placed. It is a great option for those that want an alternative to classic slot games or those that prefer shooter video games.
Catch 18 Different Types of Fish
Fish Catch is different from your standard slot game. Rather than spinning reels to try and get a prize, the objective of this game is to try and catch fish. You do this by shooting various bullet nets at the fish. When the bullet hits the fish, a net expands to try and catch the fish. The bullet will either damage the fish or catch it outright.
When you catch a fish, the value of the fish is then immediately added to your total. It is a pretty simple concept. Also, you will also have a chance to catch a fish with every shot fired. If your bullet misses the intended target the bullet will bounce off the border and continue bouncing around until it hits a fish.
There are 18 different types of fish you can catch with varying monetary values. The lowest value fishes are worth between .011 and .018 each. These are equivalent to your lower value symbols on standard slot games.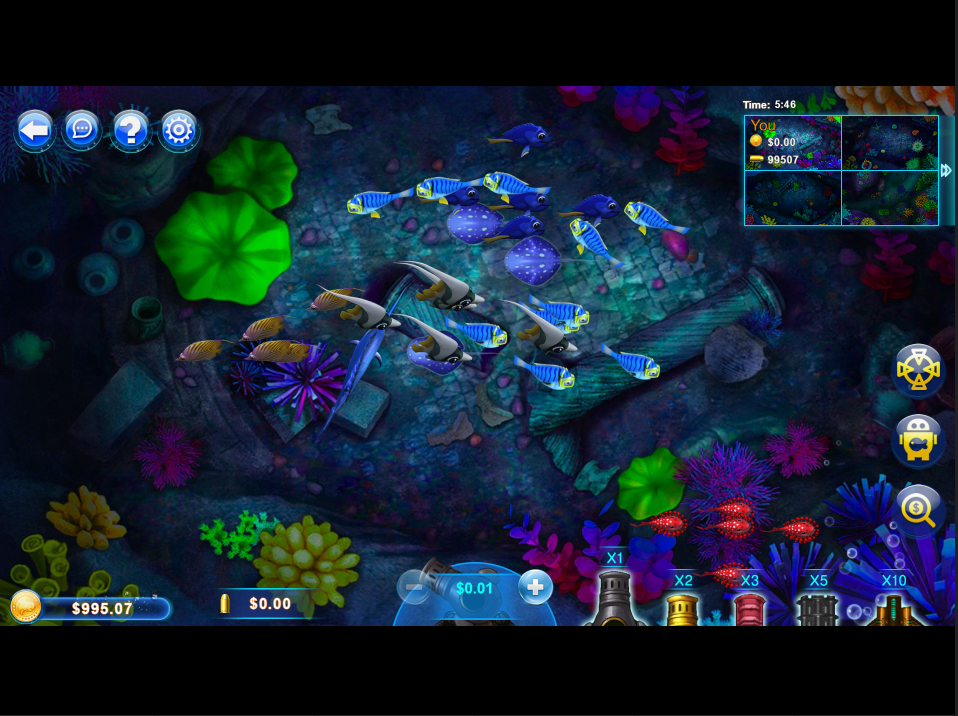 Medium ranged fish range such as Colorfulfish and Swordfish range from .02 to .50 each. The highest paying fish in this game are as follows:
Golden Shark – $1
Devilfish – $2
Tiger Shark – $3
Purple Shark – $4
Mermaid – $10
Bet Multipliers
This game is also different in that it features rounds. You get 6 minutes to shoot as many fish as you can. It doesn't cost anything to start a round.
The default cannon on this game has bullets worth .01 each. Each time your fire, .01 is deducted from your balance. However, this is not going to be strong enough to catch some of the higher value fish. As such, you will need to use bet multiplier cannons.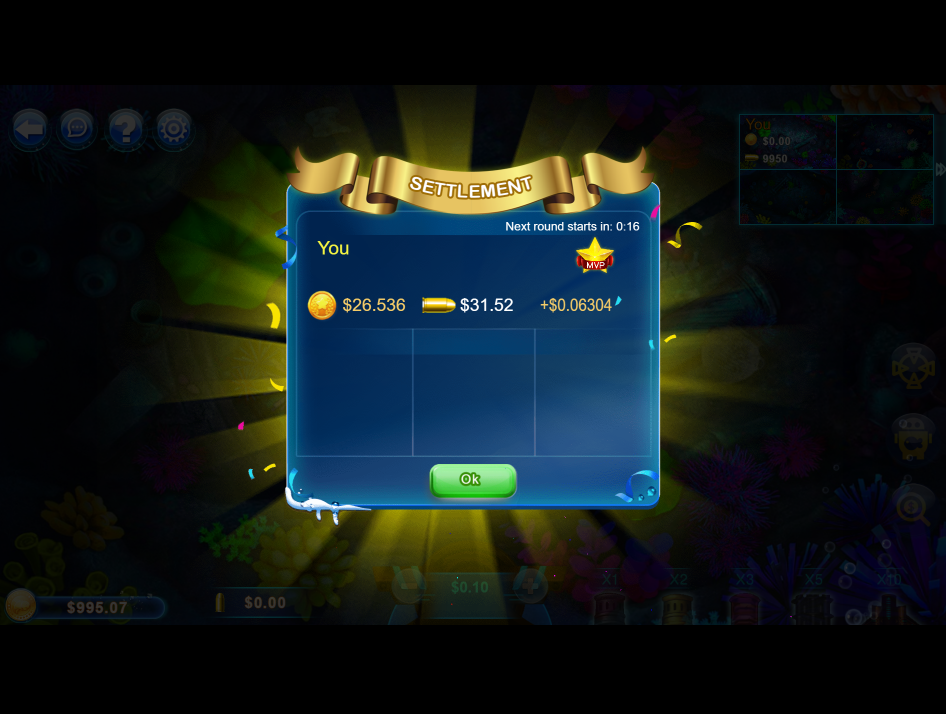 There are 2x, 3x, 5x, and 10x cannons available with bets of .02, .03. 05, and .10 per bullet. The higher the multiplier the stronger the bullet. For example, if you are trying to catch a Swordfish, you will not want to use 1x or 2x cannons as you likely will never be able to catch him.
This game has a nice feature where it will disable any fish on the screen that are lower than your multiplier. For example, if you are using the 3x multiplier, the lowest valued fish becomes transparent.
Mermaid's Luck Feature
The only bonus feature offered on this game is the Mermaid's Luck bonus. This is triggered at random, and when it hits, a prize wheel will appear on your screen and countdown to a spin. The spin will reward a prize ranging from 78x to 250x your current multiplier in the game.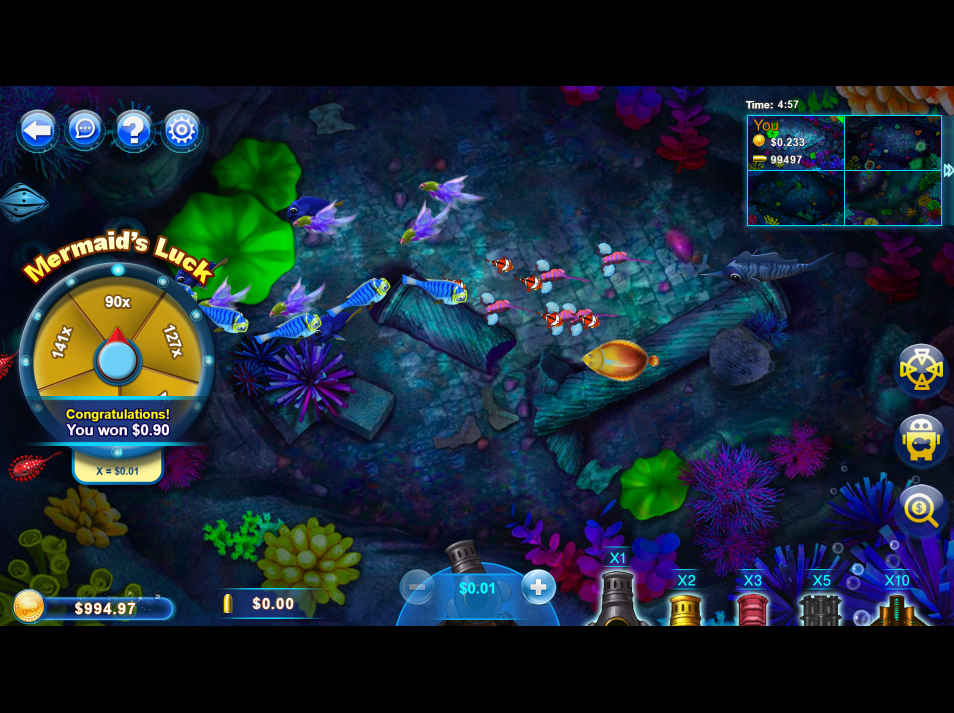 For example, if you are using the 3x multiplier and hit the 130x prize on the spin, you will get a prize of $3.90. In our testing, we hit Mermaid's Luck and got a 90x prize on the 1x multiplier for a .90 prize.
Fish Catch a Fun Low Variance Game
Fish Catch is a perfect example of low volatility skill-based slot games. You have a chance to win with every bullet that you fire, and there are a ton of low-value fish in the sea. There is also a solid mix of average and medium value fish.
The most profitable fish are also going to be the toughest to catch and in some cases, you may end up spending more in bullets than the fish is worth. That's not always the case as sometimes you will get a lucky shot and make a nice profit.
We tested this game at two different times and broke even between the two attempts. For players looking to have a good time and experience minimal bankroll fluctuations, this is definitely a game worth trying.
Fish Catch is available at Slotto Cash and all US online casinos offering RTG slot games.