Dragon Tiger is an Asian table game that you will see at some online casinos around the world. The game has similarities to Baccarat and is perfect for beginners.
Learn more about how to play Dragon Tiger along with some tips to win more at the game.
How to Play Dragon Tiger
Dragon Tiger is a table game where the object is to pick the winning hand. Two hands are dealt with the left hand being the Dragon and the right hand being the Tiger. You can bet on which hand is higher along with various side bets.
If you think that the Dragon side will win the hand, you can bet on the Dragon. If you think that the Tiger side will win, you can bet on Tiger. These are the primary bets you can place in order to play a hand.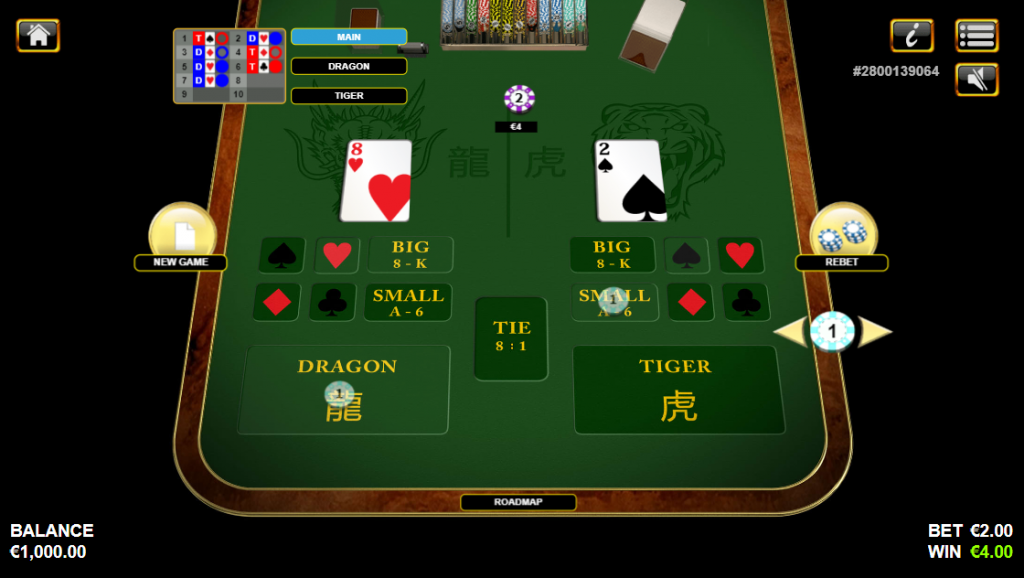 There are four side bets you can make in this game. Below is a list of side bets you can make in Dragon Tiger:
Big – Card rank will be 8 through King.
Small – Card Rand will be Ace through 6.
Tie – When you think both cards will be the same rank
Suits – Pick the suit you think will be dealt
In this game, you can place side bets on both the Dragon and Tiger. For example, if you think that Dragon will go Big and Tiger Small, you can place bets on both.
Note that side bets apply to all cards except for sevens. Sevens are viewed as unlucky and in this game, a seven is an automatic loser for all side bets. The primary bets will play.
How Much Can I Win?
One great thing about this game is you don't have to worry about complicated paytables. Dragon, Tiger, Small and Big bets pay 1:1. You'll get 8:1 on Tie bets.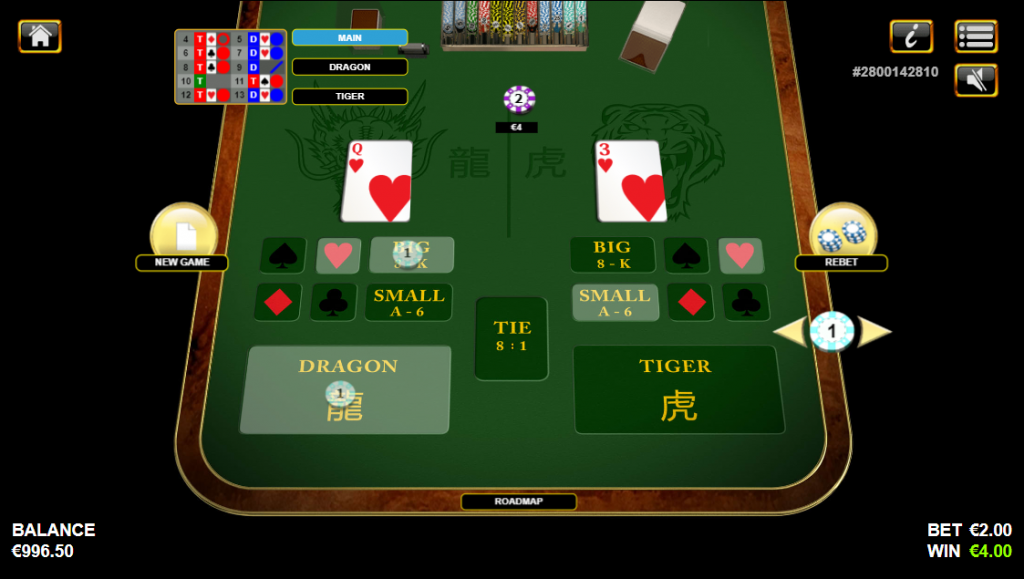 Suit bets pay a bit better. You'll get 3:1 on your money for these bets. There is also a bonus available for the Big and Small bets. If you bet Big or Small and a suit, you'll get 3 to 1 on both bets when they hit. For example, if you bet Big and spades and the Jack of Spades hits, you get 3 to 1 on both bets.
Dragon Tiger Strategy
There are a couple of things to keep in mind for this game. First, never play the tie bet. The Tie bet has an insane house edge of 32.67%. It is the ultimate sucker bets and should never be played. The house edge on Dragon and Tiger bets are just 3.73% and 7.69% on side bets.
If you plan to play side bets, consider placing them on the other card. If you're betting Dragon, then it would be logical to bet on Small for the Tiger. You can then bet Big on your Dragon bet.
For Baccarat players, you may be inclined to bet the same side after a winner in order to catch a streak. While a viable strategy in live casinos, it does not work as well online due to the RNG technology of online casino games.
A word of warning regarding playing what's known as "break-even" bets. In this game, you can place wagers on every bet except for tie and break-even for the bet. This is often done as a quick way to clear online casino bonuses.
Don't do it! First, when a 7 hits, you will lose all your side bets automatically. Next, this is going to get your account shut down due to bonus abuse. Most online casinos put a limit on bonuses and cap bets made with them at $5 per hand or spin.
Dragon Tiger is available at US online casinos offering Asian casino games. It is a great game for beginners and those that don't want to learn complicated strategies. Using the tips above, you'll be playing like a pro in no time.