If you're new to online blackjack, you may have heard the term double down thrown around a bit. It is one of the more exciting moves in the game and when done properly, it can lead to big profits at the game.
Today we will give you a simple strategy of when to double down in blackjack. This strategy assumes standard rules for blackjack.
Double Down Defined
In blackjack, a player has an option to double down after the deal. This means that the player is committing to stand after receiving just one additional card. To double down, a player must place a bet equal to their initial bet. If you are playing $5 per hand blackjack, you will have to bet $5 to double down.
There are a couple of rules to keep in mind. First, you generally cannot double down after splitting pairs. Also, you must double down on the initial deal. Once you hit, you lose the option to double down.
Basic Double Down Strategy
While it may be tempting to double down frequently in blackjack to try and secure big wins, doing so without a strategy will generally guarantee a losing session. Instead, we recommend that you use the following basic strategy for doubling down:
11 Against Dealer Low Card – When your cards total 11 and the dealer has a six or lower, this is a great spot to double down. The dealer has to hit until they reach 17, increasing the odds that they bust.
Hard 9 or 10 – When your hand doesn't contain an ace and totals nine or ten, you can double down against a dealer low card.
Soft 16, 17, or 18 – When you have an ace and your cards total 16 through 18, you can double down against a dealer low card. While you have a decent hand already, you have solid odds of improving your hand and doubling your winnings.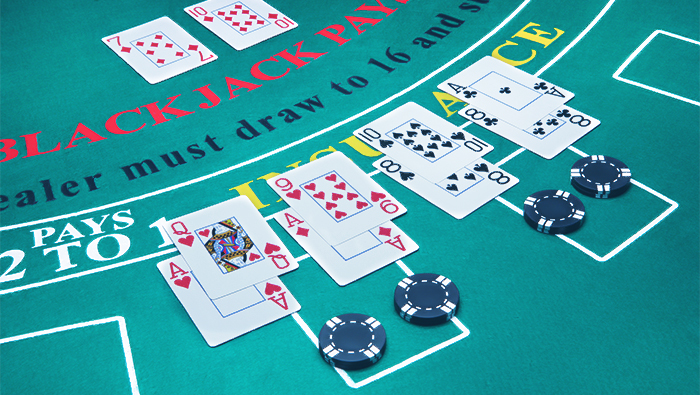 When to Avoid Doubling Down
You have probably already figured out that you should not bet anything above 11 with the exception of a soft 16 through 18. The odds of busting are just too high. However, there are other times you definitely should avoid doubling down.
The first is when the dealer shows an ace. The chances of a dealer blackjack are high and even if they don't have blackjack, they will likely have a strong hand near 21.
Next, avoid doubling down when a dealer has anything above a six showing. Some strategy guides recommend avoiding the double down on a nine or higher, but even a seven or eight will give the dealer a solid hand.
Additional Considerations for Doubling Down
Since every casino is different and offers multiple variants of blackjack, it is important that you check the table rules for the blackjack game you're playing. This will impact your decisions on whether to double down.
First, if the game you're playing requires the dealer to hit up to 16 rather than 17, the odds of their busting decrease. This can make doubling down less profitable long-term.
Next, some blackjack games will only allow you to double down on 10 or 11. That greatly reduces your ability to double down and makes the move less profitable. We recommend finding tables that let you double down as you choose.
Note that these considerations don't completely eliminate the ability to double down. They just reduce the profitability of the move.
Now that you know how to double down in blackjack, it is time to put those skills to the test. You can practice doubling down by playing free blackjack games at online casinos. Once you're gotten the hang of it, you can start playing blackjack for real money and use your new skill to increase your profits.