Most decisions in video poker are easy ones, such as holding a pair of queens and drawing three cards. In fact, a majority of the time you're going to hold most any pair dealt to you in video poker. However, that's not always the case.
There are times in video poker where it is the correct strategy to split up a pair, even a paying pair. Today we will take a look at some of the most common scenarios where you will split a pair in most standard video poker games.
Four to a Royal Flush
This is the one time where the type of pair that you hold is irrelevant. If you have four cards to a Royal Flush, you are dropping the fifth card. It doesn't matter whether you're holding aces or if your fifth card makes a standard straight. You're going for the Royal.
Look at it this way. Holding a pair you are guaranteeing a return of 5 coins. If you draw one and catch lucky, you will get a return of 4,000 coins, assuming you played max credits. Not drawing to a Royal Flush when you have four to a Royal is one of the biggest mistakes made by video poker players.
Four Card Flush With Low Pair
In this scenario, you have four suited cards with a pair of deuces through tens. You have nine cards in the deck to improve your hand as opposed to trying to catch trips or two pair. The long-term EV for the flush. In this case, you will drop the low pair.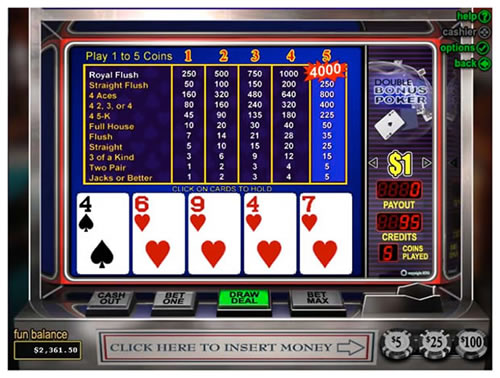 Four to Straight Flush
When you are looking at a hand such as 6-7-8-9-9 with four cards to a straight flush, this is another no-brainer situation where you will drop the pair. What about when you have a hand like 8-9-10-J-J? In this case, you have a guaranteed paying hand.
In this case, like with the Royal Flush draw, you will split the pair of jacks and go for the straight flush. You are going for a payout of 250 versus just 5. Keep in mind also that you can back into a standard straight or flush with this draw, both paying a lot more than your pair of lowly jacks.
Open-Ended Broadway Straight
One common scenario you will run across in video poker is when you're dealt a pair of tens with a non suited jack, queen, and king. In this case, you have an open-ended Broadway straight draw. An ace or nine gives you a straight while any jack, queen, or king gives you a winning hand.
The odds for improving to a paying pair combined with the odds of improving to a straight are greater than the odds of catching two pair or trips by holding the tens. In this case, you will split the tens.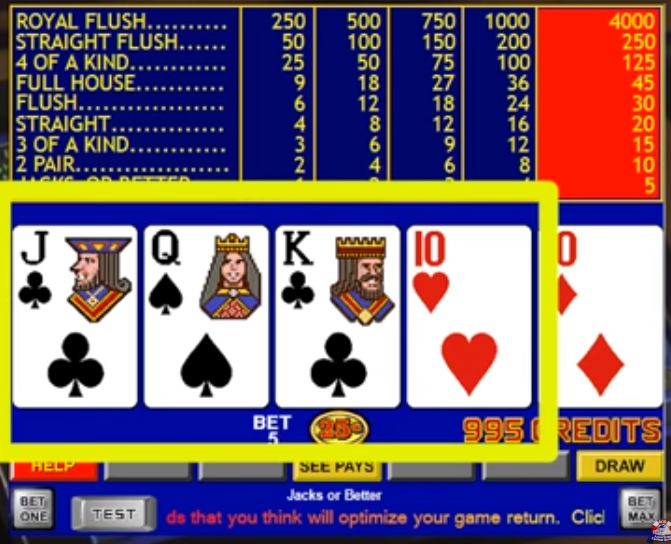 Non-Paying Pair and Three Royal Flush Cards
For this hand, you have any non-paying hand along with three cards to a Royal Flush. As an example, you have a pair of nines and the J-Q-K of hearts. In this case, we are going to drop the pair entirely and go for the Royal Flush.
Not only is the EV for the Royal Flush worth dropping the non-paying pair, but you also have nine outs to backing into a paying pair.
Practice These Scenarios With Video Poker Trainers
If remembering all of the above seems a bit daunting, that's OK. Many people will take video poker cheat sheets with them or bookmark websites to reference while playing video poker. That's perfectly acceptable.
However, instead of cheat sheets, we recommend that you take some time to practice playing video poker using a video poker trainer. Sites such as VideoPoker.com offer video poker training software. These trainers will analyze your play and tell you when you're making mistakes. They also give you common scenarios to test your play.
The more you play, the more experience you gain and the better decisions you will make playing video poker. By making better decisions, you will increase your win rate while playing online video poker.