Is it too early for Christmas? Not at the best online casinos. For those that wish Christmas was year-round, check out Book of Santa. It is the newest 5-Reel video slot game from Endorphina.
With a title like Book of Santa, you would think the game would be a mystical offshoot involving sorcery and magic. The only magic with this game is the magic of the holiday season. Learn more about the game and the prizes available.
Sit By the Fire and Earn Some Prizes
Book of Santa is a fairly simplistic 5-Reel, 10 payline online slot game featuring a holiday theme. The board and backdrop is a fireplace with Christmas tune sounding similar to Dance of the Sugar Plum Fairies.
The game has a mix of low and high paying symbols. Royals are lower-paying symbols when three of a kind is hit. However, four and five of a kind turn a profit for this game.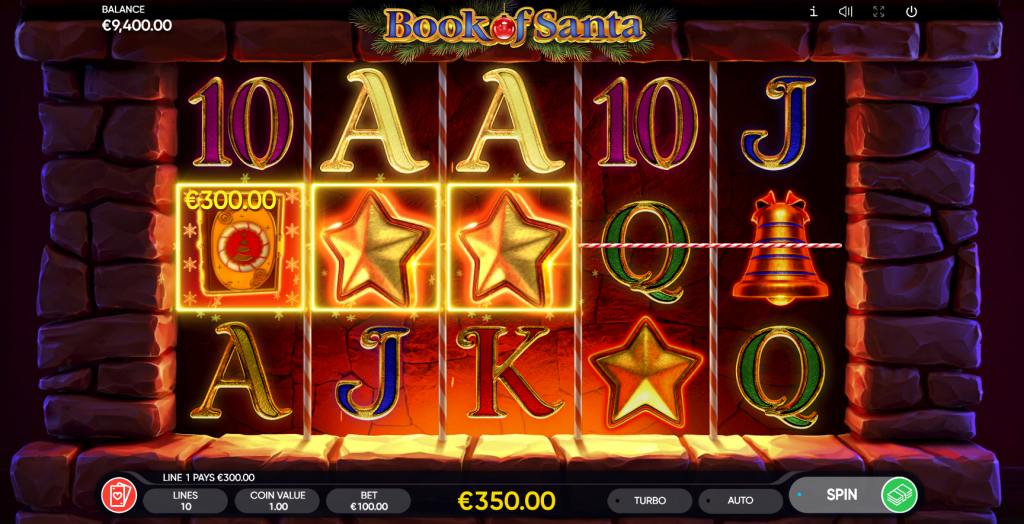 Higher paying symbols for this game pay off whenever two or more symbols are on a payline. Higher paying symbols include sleighs, bells, and stars. Santa is the highest paying standard symbol, paying up to 500x your initial bet for five of a kind.
The Christmas Book serves as both the wild and the scatter for this game. It also pays when three or more symbols are on board.
Free Games Feature
Whenever you land three or more scatters on the board, you'll unlock the free games feature. For this feature, you will get 10 free spins with an expanding symbol. Before the spins begin, a random symbol is selected. When that symbol makes a winning combination, it expands to fill the entire reel.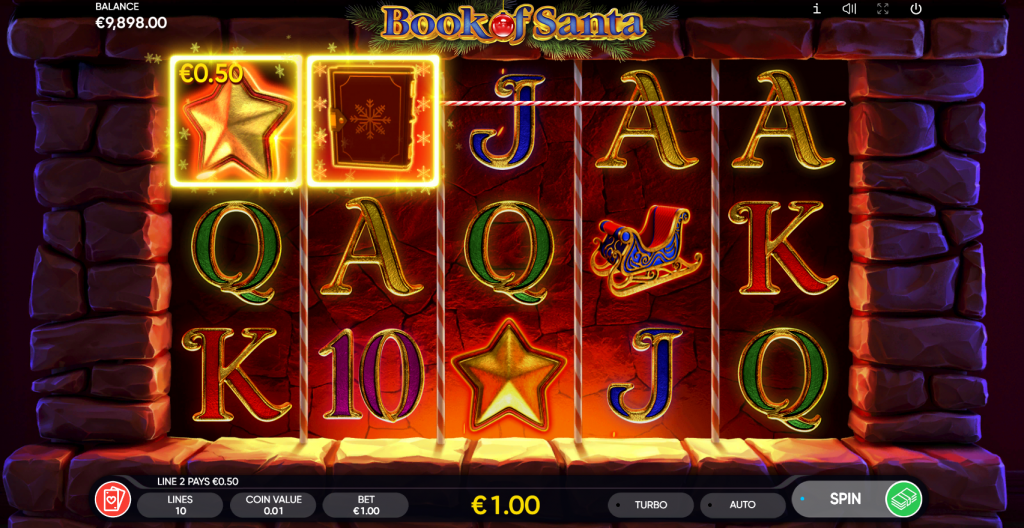 During spins, payouts are made before the symbol expands and then payouts are made again after the symbol expands. Free spins are re-triggerable for this game.
We played this game for a while and never got more than one scatter on board. This feature seems to be a tough nut to crack. Yes, that pun was intentional.
Gamble Game
After each spin, you can risk your winnings in the gamble game. This is a standard high card wins the game. The dealer has a card and you must pick from one of four cards. Jokers automatically win. The dealer cannot draw a joker.
If your card is higher than the dealer's card, you win. Make the wrong choice and you lose your winnings. You can attempt to double your winnings up to 10 times. You can stop at any point and collect your winnings.
We do not recommend playing the Gamble Game. The RTP for the Gamble Game is just 84%. That's a 16% edge you're giving the house.
Cute Game But Not Overly Exciting
Book of Santa is one of those games that looks cute and may be fun for the nostalgia factor but it is not a game that you will play for long. The prizes are a little better than other games of this type, but nothing spectacular.
Also, the free games feature is pretty generic. You only get 10 free spins regardless of whether you land 3, 4, or 5 scatters. It is also tough to land.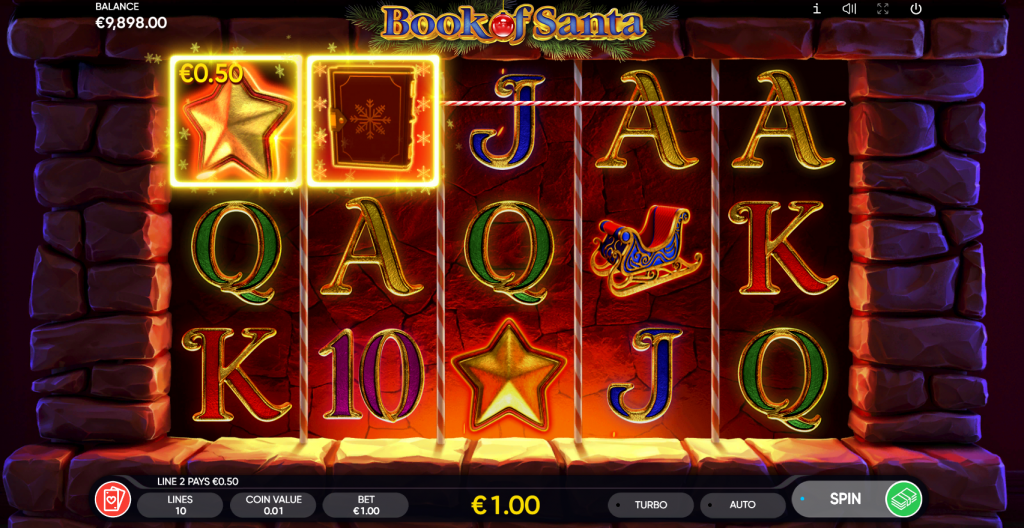 Lastly, the RTP for this game is just 96%. That's just slightly better than average. The game is more of a medium variance slot game, which for a Christmas-themed slot game, is a bit disappointing.
Book of Santa is not a bad game, but it is remarkably average. It is something that's fun to play if you're looking for a bit of nostalgia or if you want something different to play at Christmas time. Otherwise, we recommend checking out slots from Micrograming or Real-Time Gaming as they have a bit more action.