While blackjack is a simple game to learn, there are a few skills that are a bit more involved. One skill that some new players have trouble mastering is splitting pairs.
You'll be dealt a pair in blackjack on a regular basis, so it is a skill you need to know. Fortunately, we have put together a quick tutorial to help you master this skill quickly.
Face Cards and Tens
Some players will mistakenly split a pair of tens or a pair of face cards believing they can make two strong hands. While this sounds good in theory, in practice it is a long-term losing play.
When playing online blackjack, the only play you should make with two tens or two face cards is to hold. You can only lose when the dealer makes blackjack or 21.
Aces Through Eights
This is a no-brainer decision in blackjack. If you are dealt aces, you're going to split as you give yourself the best chance of making multiple strong hands or blackjacks.
A pair of eights is another time you're going to always split. You're often not going to win with 16 unless the dealer busts. However, splitting eights gives you two shots of hitting 18. Standing on 18 is a long-term winning play.
Fours or Fives
If you like throwing money away at the blackjack table, go ahead and split a pair of fours or fives. You're going to hit multiple times after splitting these pairs, increasing the odds of busting.
Instead, hold your pair of fours and try to make 18 or better. You cannot bust on the first hit. For fives, you can double down as long as the dealer isn't showing a nine or better. If you don't want to double down, you're still in great shape to win the hand after a single hit.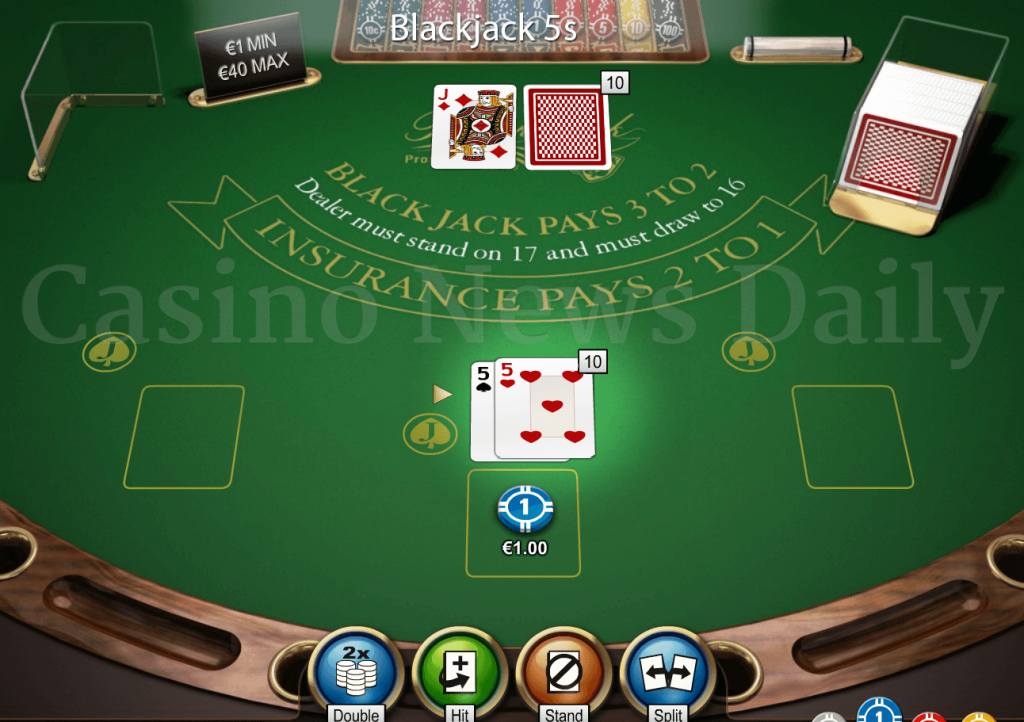 Other Splitting Situations
The above situations are all or nothing scenarios. Like most card games, there are times you're going to split based on what's showing in the dealer's hand.
Two, Threes, and Sevens – When a dealer's card is a deuce through seven, you can split twos, threes, and sevens. Often, the dealer will have to hit multiple times and their odds to bust increase.
Sixes – If you have a pair of sixes and the dealer shows a two through six, you can opt to split. The dealer will be hitting multiple times and may bust. Otherwise, hit. Standing with 12 will not win.
Nines – When the dealer has a nine, or a two through six, split nines. For other cards, stand with 18.
Online Blackjack is Different Than Live Blackjack
If you've been researching the topic of blackjack strategy, you may seem some advice regarding splitting face cards or other scenarios that differs from our tips. The reason behind this is that those articles are talking about live blackjack games.
Online blackjack is different from live blackjack. First, the cards are generated using a random number generator, which is the equivalent of shuffling the cards after every single deal. In live games, the games are using shoes with decks of cards. This allows for card counting, which you cannot do in online blackjack.
You cannot apply card counting principles for online blackjack because cards are not eliminated from the deck after a hand. As such, you should stick with the basic principles offered in this article.
Master Splitting Pairs to Win More at Online Casinos
Most beginners think that learnings concepts like splitting pairs are difficult. However, once you start putting the above tips into practice, it becomes easy. There are a couple of things you can do to master this skill faster.
First, you can use a cheat sheet or bookmark this article for the next time you play. Since you're playing at online casinos, who is going to know? Besides, even live casinos allow you to have cheat sheets.
Next, consider playing some free money blackjack games while you're learning how to master the art of splitting pairs. This way you can master the skill without risking any money.
Splitting pairs is one skill that all blackjack beginners should master. It will help you improve your odds at the tables and give you the best shot of logging off a winner.