Blackjack is one of the most popular games at online casinos due to the low house edge. When you play a proper strategy, you can further reduce this edge.
Part of playing a proper strategy is knowing whether or not to take insurance or even money. Today we will give you a simple strategy to blackjack insurance and even money.
What is Insurance?
Those that are new to blackjack may be unfamiliar with the term insurance. When a dealer shows an ace for their upcard, they will ask you if you want to purchase insurance. This is a side bet that is made to try and protect you from a dealer blackjack.
For example, let's assume you're betting $10 per hand and a dealer shows an ace. You can place a $5 insurance bet. This bet, when it hits, pays 2 to 1 on your bet.
If you make the insurance bet and the dealer indeed has blackjack, you will receive 2 to 1 on your money. In our example, that would return $15. Your initial $10 bet will be lost. In the end, you will break even on the hand.
When the dealer checks and you don't win, your insurance bet is lost and play continues.
What is Even Money?
Even money is an alternative version of an insurance bet that happens when you're dealt a blackjack and the dealer shows an ace. Instead of asking for an insurance bet, the dealer will ask if you want even money on your blackjack.
If you agree to take even money, you immediately win your hand. If you're playing $10 a hand, you will win $10. After you accept even money, your cards are removed. Note that the dealer will do all this before checking their cards.
Players tend to make this move in anticipation of the dealer having blackjack. They think that they will take the guaranteed win over risking a push. They think that winning $10 is better than losing $15 on the push.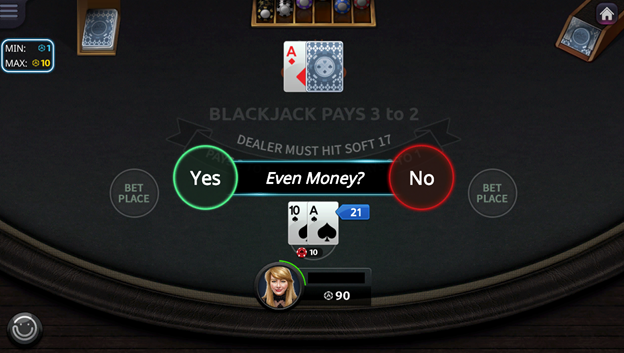 Proper Insurance Strategy
The thing to remember about insurance is that it is a side bet whose only purpose is to help you break even. When the dealer does not have blackjack, you lose this bet. Look at this bet over the long-term, the house edge is between 5.9 and 14.3 percent.
Your goal in blackjack is to reduce the house edge, not to increase it. The best strategy to play in this scenario is to refuse insurance.
Even Money Insurance Strategy
When considering whether to take even money, you have to consider what you're giving up. If you take even money, you're guaranteeing 1 to 1 on your money. A normal payout for a dealt blackjack is 1.5 to 1 on your money. When the dealer hits a blackjack at the same time, you push, meaning you just get back your initial bet.
In this situation, you cannot lose your bet and it would seem logical to take the even money. Looking at the simple math of the situation, 30.6 percent of the time you will push. The rest of the time, you will be paid 1.5 to 1 on your money.
Over 100 hands, if you decline even money, you will win about .04 on every dollar wagered. You'll walk away with $104 as opposed to $100 if you take even money. Taking even money gives the house an extra 4 percent edge. Depending on the blackjack variant you're playing and your strategy, you may be doubling the house edge against you.
Insurance and Even Money Only Applicable to Live Blackjack
You will hear some people try and convince you of scenarios where taking insurance or even money is the smart play. These scenarios are in live blackjack settings where players are using card counting techniques.
Online blackjack games use Random Number Generators that prevent card counting. In layman's terms, the virtual decks are shuffled every hand and you cannot count cards. That makes any insurance or even money strategy irrelevant.
Like the majority of side bets, insurance and even money should be avoided by online blackjack players. Otherwise, you are increasing the house edge against you and virtually guaranteeing a losing session.