With the 2020 Presidential cycle upon us, this is around the time we start hearing from niche candidates who focus on issues of lesser-importance to try and garner support. One such candidate is Andrew Yang.
Over the weekend, Yang tweeted that online poker should be legalized in all 50 states. The gambling community, especially the online poker community, has quickly thrown their support behind Yang despite the odds that he will not be in the race for the long haul.
Yang Support Online Poker – On Twitter
It is not uncommon for prospective presidential candidates to throw their support behind niche topics, and Yang has decided that one of his many talking points is online poker legalization. He tweeted the following on Saturday:
Following the tweet, the online poker world immediately started throwing support his way as he is seen as a potential lifeline. Yang is the founder of Venture for America, an organization whose purpose is to rejuvenate local economies.
The three primary areas he's focusing on for his campaign on are as follows:
The Freedom Dividend – Universal basic income of $12,000 a year for every adult in the US.
Medicare for All – Universal health care to all Americans
Human-Centered Capitalism – Move companies more towards human-centric ideas rather than automation and focusing on profit.
When you scroll down his policies page, you see his support for everything from the legalization of marijuana to eliminating the penny. However, nowhere on the page is there any mention of him supporting online poker.
So what exactly does this mean? It likely means that Yang saw a segment of the population that he could connect with and try and muster votes. While online poker is not a "game-changer" in terms of securing votes, it is an issue that can mobilize a segment of voters to get the word out. More importantly, it can also help to bring in needed campaign donations.
What Are Yang's Chances for Winning
While it is fun to try and throw support behind a niche candidate like Yang, the reality is that he has very little chance of winning the election. Looking at numbers from the New York Times, Yang is only polling at about 2 percent. That's on par with Beto O'Rourke.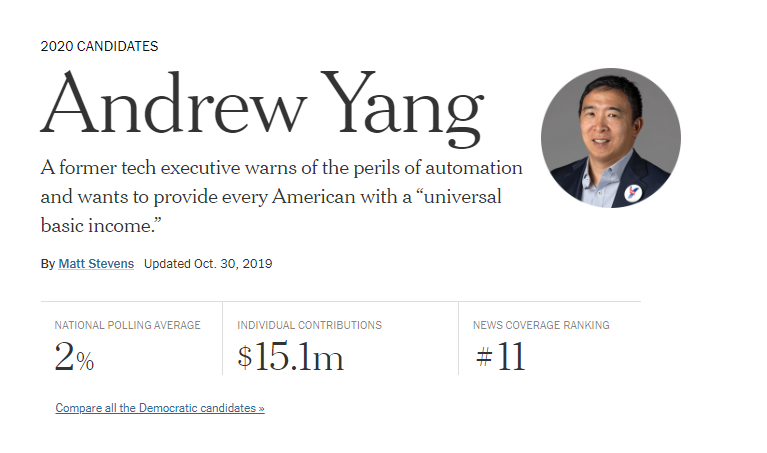 The top candidates are Bernie Sanders (15%), Elizabeth Warren (23%) and Joe Biden (27%). What's worse about Yang is that he ranks around 11th in overall news coverage. The truth is that too few people know about Yang at this point in the race for him to have a chance to win the nomination.
At this point, the best chance that you have of seeing Andrew Yang come 2020 is if one of the top candidates choose to pick him as a Vice Presidential running mate. His background in business in Philanthropy would make him a solid choice and he would have enough social issues checked to make him a strong supporting player.
Why Even Mention Yang Then?
The main reason that Yang has been getting so much attention lately is that he is able to bring some attention to the plight of online poker in the United States. Presently, legal online poker is only operating in three states and legal in five.

Nevada was the first to offer online poker. Delaware and New Jersey soon followed. Pennsylvania and West Virginia have legalized online poker and online casino games but they have yet to launch. Candidates such as Yang can bring some attention to online casino regulation, but it is going to be somewhat short-lived.
The only way that we will get national attention to the issue is for a viable candidate to take hold of the issue and run with it. Unfortunately, issues such as universal health care and living wages are going to take precedence and online poker will have to take a back burner.