Free Craps Online
If you want the excitement of craps without all the social interaction, we suggest you play free craps online. Craps in the demo version of the game allow you to learn the nuances of the game without wagering real money. While it may lack the excitement of shooting dice in a casino, online craps does have its advantages.
In this guide to free online casinos, we'll discuss where to find such games online. For those who've recently fallen in love with live craps, this article provides a strategy to help you on your way, a brief overview of the craps bets, and a survey of casino dice games in general. Once finished, you can play our free online craps demo or seek out other versions elsewhere on the Internet.
What You Need to Know about Free Craps Online
If you're looking for online casinos that offer free craps, you won't have to look far. Almost all Internet casinos offer craps, and most also provide a free, no-download version of their casino software. Just visit your favorite online casino, look at their available games, and find craps listed under the "table games" section.
The Basics of Craps
To begin a round of craps, the shooter (the person with the dice) makes a come-out roll. If the initial roll is a seven or eleven (known as a "natural"), anyone who wagered on the "Pass Line" wins (with "Don't Pass" bets losing).
If the first roll results in a two, three, or twelve, then anyone who bet on the "Don't Pass Line" wins or, in the case of a twelve, has their wager pushed (with the "Pass Line" losing).
When the result is any other number, this becomes the "point." The shooter then continues to roll, and his objective is to get the point again before a seven is rolled. Pass bets will win if he is successful, while Don't Pass wagers are paid for unsuccessful attempts.
The first time you play free online craps, it may feel as though you're competing in a game from another planet.
With numerous betting options and a fast pace, craps have a different feel from other casino games like video poker or blackjack. Craps can be learned easily through a bit of practice and patience.
Advantages of Free Online Craps
Playing free online craps has several advantages. Some of these include:
Quiet – While some might view the lack of crowd interaction as a negative, it can actually be beneficial to those who are still learning the basics of the game.
Solo Play – Another advantage of playing solo is the ability to move at your own pace and consult a crib sheet without getting embarrassed. If you're unfamiliar with the game, this can be a major benefit.
Free – This one is a no-brainer, as free online craps doesn't cost anything to play. If you're going to sharpen your skills, why not do it when there isn't money on the line? If you're the type who likes to play in land-based casinos, online craps will also save you money on gas, hotel accommodations, and airfare.
Convenience – Playing online is more convenient than visiting a land-based casino, as all the games are only a click away. You won't have to deal with casino patrons, many of whom seem to have forgotten all about social graces. There's also the convenience of not having to walk around with a wad of cash, as all your funds are kept online and managed by the casino software.
Once you've honed your skills at the free table, you'll be ready to graduate to low or high limit craps. For now, let's focus on the many versions of free craps.
How to Play Craps Online for Free
Free craps comes in many forms in online gambling. Dice shooters who want to enjoy craps for fun or practice have a ton of options: social media games, craps simulators, craps apps on Apple Store and Google Play, and the free-play mode at real money online casinos. This guide to online free craps will discuss every method, providing readers all the information they need to get started.
Online casinos offer a free-play or practice mode for new players. To play, the site usually requires a player to register a new account with name, address, email address, and a username. This incurs no obligation and does not require a deposit to play. You'll be on the site's email mailing list, but otherwise, there is no hassle. Within a couple of minutes, you'll be playing free craps in your web browser.
Many online casinos even offer a no-deposit bonus. This is a small amount of promotional cash which lets players wager house money with no risk and no payment to the casino. If the player has winnings, they'll need to satisfy a wagering requirement, but no other obligation is required.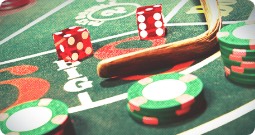 Mobile Craps Games for Free
Most online casinos offer links to the Android and iOS versions of their mobile casinos. While many mobile casinos do not have a complete list of casino games (though some do), they offer the most popular casino games for Android smartphones and tablet computers, as well as iPhone and iPad games.
Often, Android craps and iPhone craps are gaming options. These games have a free play option, so free mobile craps are available in the best online casinos.
Some casinos might require a mobile casino app download, but that is rarer now than it used to be. With Flash and HTML5 games, players usually have the option of no-download craps played in their browser. 
Craps Games at the Apps Store
The Apple Store has gaming apps for iOS devices like iPhone, iPad, and iPod Mini. While iPhone and iPad have less of a market share than the combined Android community, Apple sells more mobile devices than any single Android brand. Apple Corporation is known for having the fastest updates and the best support in the industry, so people searching for free mobile craps won't find a better option than the Apple Store.
Popular iOS craps apps at the moment include Craps Master 3D by AreaSixtyOne LLC, Craps Lite by James Leno, and Aw Craps! by 24x7digital LLC. Craps University by D-Cypher Software Inc. is a good way to learn about dice gaming.
Craps Deluxe by James Leno is a good option for those who use iPhone or iPod Touch, which have smaller screens. Craps-Shooter by Andrew Bradman was a top game as late as 2014, but it hasn't had an update since then. Craps Multiplayer by App Street Software Private Limited is a solid option for those who want to play online with friends.
Craps Apps on Google Play
Google Play is the site formerly known as Android Store, and it is Android's equivalent to the Apple Store. Android is the most popular mobile operating system in the world. It is backed by the Open Handset Alliance, which includes industry giants like Google, Sony, Dell, LG, T-Mobile, Intel, Sprint, Nvidia, Texas Instruments, and Samsung.
Android's backers took the same approach Microsoft did with its desktop operating system: offer an open-source operating system and the software designers will flock to your system. That's exactly what happened, so Android dominates the market, because application design startups and independent app developers have built a tidal wave of apps for the Android operating system.
While Android might not have the same level of compatibility or quick, centralized updates that Apple's iOS does, it has more game options than anybody.
Facebook Craps
Social media sites like Facebook have many online craps games. Titles like Craps Wizard, Casino Craps, and Big Fish Casino's Social Craps for Mobile! are all popular gaming options. Many Facebook casino apps include craps gaming in their package of games, so the full list is expansive.
Gaming-focused sites like Zynga offer large numbers of casino games. Some of these offer craps as a playable game, too. ESPN.go.com offers free online card games, puzzles games, and arcade games. You'll find craps along with many other casino games available to this large gaming community. It should be noted that all of these games are free to play so you won't be able to gamble for real money on social gaming sites.
Tips for Free Online Craps Players
All the information you need to know about craps can be found online, so don't waste your time buying e-books with systems designed by so-called experts. Con artists make outrageous claims about helping you win huge sums of money, which is an indication a writer is either a con artist or craps cheat.
Whether you're playing for money or just for fun, the following suggestions should serve you well at the craps table:
Understand the Odds – You must understand the odds for each betting option in craps, as this will provide an idea of which bets to avoid and which to seek out. For example, the odds of rolling a two or twelve are 35 to 1, so you might want to avoid making this kind of wager. Rolling a six or eight, however, is only 6.2 to 1, so the odds are more in the player's favor.
Avoid Prop Bets – Prop bets offer some of the worst odds, so they should always be avoided by everyone except the most daring players. In case you don't know, proposition bets are wagers that are determined by one roll of the dice.
Learn the Etiquette – The game of craps has a lot of rules of conduct, especially if you're playing in an offline casino. While Internet players won't have to worry about such things, I still recommend you do some research and commit these to memory. For example, it's considered bad luck to say the word "seven" after the come-out roll, and players are expected to place their bets on the table instead of tossing them.
Beware of Craps Systems – If you look around the Internet for winning craps systems, you'll be impressed by all the individuals who claim to hold secrets for beating the game. Let me be clear: craps, like any casino game, cannot be beaten. Even masters of dice control are ultimately subject to the laws of probability, and dice control doesn't have any effect at an online casino.
Free Online Craps in a Nutshell
Incredible Technologies' original Crazy Money slot delighted many casino players, but Crazy Money Deluxe really moves the action up a gear.
The Sky Wheel bonus game is just fantastic, while the cash credit round features added multipliers, giving your even more ways to enjoy a really nice session. Of course, hitting one of the four jackpots is something that any chip-hungry slots player would also welcome during a nice session.
The Money Catch round is an entertaining feature that could net you a lot of chips. Slot players wanting a freebie, free chips, or who would prefer to try out Crazy Money Deluxe for free before parting with their money, however, can do so online at Big Fish Casino.
Free Online Craps FAQ
When new players are considering what kind of craps to play, they often wonder if the free version of the game is any different.
Besides the fact that one game is played in a live setting and the other over a computer screen, the only significant difference revolves around money. This isn't accidental, though, as online casinos are hoping that you'll like the free version enough to give the real thing a try.
The free mode in online casino and the many mobile apps isn't the only option. Players can go to how-to sites to play the free craps simulators there. A few authority sites like Wizards of Odds offer these tools to help players learn to play craps (and other games). Along with detailed tutorials, these are a good way to practice the game of craps at no expense.
Players who plan on gambling real money on craps should consider simply playing in the practice mode at an online casino. It allows them to learn the game menu at the gambling site. The free craps simulations are a good resource for beginners.
That being said, if you plan on playing for real money, then play the same game in practice mode.
Yes. We have demos for the most popular casino games online: video slots, video poker, blackjack, roulette, and baccarat. Here are a few of the game you can play on Best Online Casinos in practice mode.
It would be hard to list all the free craps apps for Android smartphones and tablet computers, but I'll list a few of the popular choices right now. Craps: Casino Style by Phonato Studios Pvt. Ltd. is a nice start. Craps (Free) and 25-in-1 Casino& Sportsbook by gApp Technology are each highly-rated applications which offer dice shooting.
Real Craps from Appskin Inc isn't rated as highly, but it is rated for "Teen" players and its 3D animations are cinematic quality. Craps Master 3D from AreaSixtyOne, an analogue of the iOS game by the same name, is available.
As a general rule, the answer is no. Players who accept a no-deposit bonus or free bonus chip can bet real money without risk or obligation, though.
In those cases, if you get lucky while playing with house money, then you can win real money while playing a free version of craps. Many no-deposit bonuses have a win maximum, though, so the winnings won't be huge.