Pontoon – Free Game, Odds, Strategy & Payouts
Pontoon is a blackjack variation similar to classic blackjack, but with key differences that make Pontoon its own challenge. There are two versions – one from Australia that is actually referred to as Spanish 21 elsewhere. The other version comes from the UK. The UK version is what this guide to Pontoon will discuss.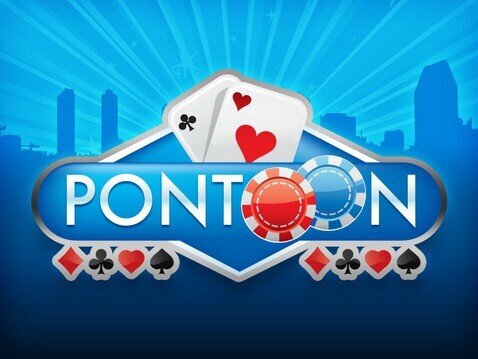 How to Play Pontoon Blackjack
The objective here is similar to other blackjack variations; you want to beat the dealer's hand, either by having a hand valued at more points, or from the dealer busting. You will need to accomplish this without busting yourself (exceeding 21 points) which will result in an immediate loss for you.
Pontoon is played with 2-8 decks, depending on the casino. Each card represents it's value, so a 9 equals 9 points, 3 equals 3 points, etc. Face cards will equal 10 points and aces equal 1 or 11 points.
To start the game, each player will need to place a wager. Then they will be dealt their cards, two at a time. The dealer will receive two cards, too, both of them faced down.
Then the action starts. The following are the blackjack rules that you and the dealer need to follow, as well as the options you have when it comes to standing, hitting, splitting, doubling down and so forth.
---
Pontoon Blackjack Rules
Players have to hit hands valued at 14 points or lower. You can only stand on 15 or higher, or any 5-card hand.
Player / dealer ties result in a loss for the player.
The dealer peeks for a blackjack/pontoon. If he has one, the game is automatically over.
Players natural 21 beats the dealer's natural 21.
Players can double down on 2-4 cards, but only once per hand.
Players can hit following a double down.
Hands can be split up to 2 times, creating 3 playable hands.
Aces can only be split once, and will receive one hand per ace.
Players will receive a 2:1 payout if they make a 5-Card Trick, which is having 5 cards without busting (going over 21).
Blackjacks are referred to as pontoons, and are any hand consisting of an ace and ten point card.
A two card pontoon after splitting aces is a pontoon.
Once all the players have acted, the dealer will flip over his hand and hit until he has a hard 17 or better, or busts. The dealer also stops if he makes a 5 card hand.
Pontoons pay 2:1.
The key differences here (compared to other variants) is that the dealer doesn't have an up card showing. This increases the casino's advantage over you. However, considering that any pontoon you make wins, including multiple cards or split aces, that makes up for it. The dealer also has to hit a soft 17 and that your natural blackjack beats the dealer's (natural). So there are plenty of outcomes that improve your edge. The house edge for this game is right around .40 percent, depending on where you play it.
Interestingly, the names for common blackjack options are different in pontoon, too. For example, a hit in pontoon is called a twist. Buy a card is another way of saying double down, and stick refers to standing.
Pontoon Odds and Probability
Under the standard rules of the game, the house edge works out to 0.38%. This is the case with the Pontoon games offer by everyone from Cryptologic, Real Time Gaming, and Playtech. The Pontoon odds and probability at Microgaming casinos are just slightly more in favor of the casino, as rules about the dealer standing on a soft 17 and split aces getting just one card adjust the house edge to 0.39%.
Online Pontoon may have subtle rules differences depending on which software provider powers the casino. Most of these variations only serve to increase the house edge, however. Examples include no draw to split aces (increase by 0.49%) and playing with two decks instead of eight (increase by 0.35%). This latter increase in the house edge is due to players having a better chance of making 5-card tricks with numerous decks in play.
Pontoon is one in a long line of blackjack variants that include Spanish 21, Perfect Pairs Blackjack, and even Chinese Blackjack. It's closer in spirit to the original than some variations, so experienced players will be able to master the concepts in a relatively short period of time.