High Streak Blackjack – Free Game, Rules & Odds
Win Big with High Streak Blackjack from MicroGaming
Hitting a run of consecutive wins is welcome in any blackjack game. In High Streak Blackjack you get even bigger rewards for up to 5 wins in a row. This is an online game, and is played with 2 decks using the regular European Blackjack rules. The streak bet is a side bet. As you will see below, the format allows you to have several streak bets at different positions in the same game.
This page is a complete guide to High Streak Blackjack. First below is an overview of the game format, followed by some notes on your strategy. After that you will find the pros and cons of this game – compared to the many other real money blackjack variations you will find online.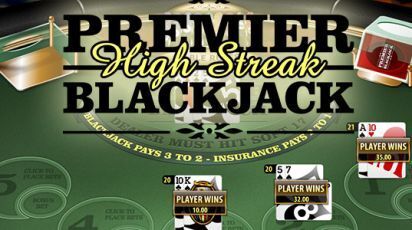 High Streak Blackjack – An Overview
The main game played is European Blackjack. This is a regular game which is played with 2 decks (shuffled each time by the RNG software, so no card counting possible!). As with all European rules formats, the dealer only gets 1 card at the start of the hand. The other is dealt after you have completed your actions. In this game, you can only double-down on 9, 10 or 11 scores.
In addition to the main game there is an optional side bet. This is the 'High Streak' part. This bet does not need to be the same size as your main game bet. There are 5 circles in total. You can only place a new bet on the first of these. After each win, you get paid in the main game as normal, and the side bet starts to kick-in. Your chip does not leave the table, instead this moves one circle along. If you add another bet to the first circle, then you will often end up with a line of bets moving along the high streak circles.
There are better odds for these bets the further along the line they go. The second spot pays even money, with the 3rd spot at 2-to-1, 4th at 5-to-1 and the 5th spot at 10-to-1. If you keep adding new bets to the start of the line – then runs of more than 5 hands could see you with 10-to-1 payouts several times in a row.
Strategy for High Streak Blackjack
Most online blackjack games use the US rules as a default. In variations like Vegas Strip Blackjack and Atlantic City rules, the dealer gets 2 cards and will 'peek' to see if they have blackjack before players act. If you are not used to European rules, then knowing that the dealer gets the second card after you have acted can change-up the basic strategy. The reason is that in US rules, you will know when the dealer shows and ace (or 10) and does not have blackjack in advance. In European rules you can't rule this out – making the default strategy slightly more aggressive.
For the High Streak side bets, the amount and number of these bets all down to personal choice. When you get a streak going, you will receive extra chips (often several if you have a line of these bets). This encourages a lot of players to add new High Streak bets each hand. When a run of 5+ wins happens this is very welcome – though the downside is that eventually the dealer will win a hand and all your streak chips will be removed. If you do leave gaps on the streak bets line, and then do hit a long run of wins, this can be frustrating too!
Pros and Cons of High Streak Blackjack
The chance to win 10x your bet is very appealing. In a regular game, you are stuck with 3/2 at best, and only get bigger wins when you risk more using doubles and splits. High Streak Blackjack also adds some extra excitement and tension to the game. When you are about to get dealt a hand that will win you 10-to-1, this is a different feeling to the regular 1-to-1 hands.
Of course, not everyone enjoys playing the European rules games – which restrict doubles compared to the US rules. This game is not yet available in live casinos, and is only found at MicroGaming casinos (which are not open to US players).
Summing Up – How Does High Streak Blackjack Compare?
This is certainly an innovative side bet – and the chance of 10x wins is most welcome. Compared to other side bets the progressive nature of things is a big appeal. With Perfect Pairs for example, you do have the potential for bigger wins, though each hand is separate. Check out High Streak Blackjack next time you are online – if you get a run going, it could end up being a profitable session!