European Blackjack – Free Game, Rules, Odds & Payouts
European Blackjack is one of the most common blackjack variations you'll come across online. Like the name suggests, it's especially popular in European countries.
Fortunately, the game isn't limited to European players. US players can play it, too. That's because all Realtime Gaming casinos have this variation. Their software has 6+ blackjack variations in addition to that, too, and most of their casinos have huge deposit bonuses ranging from $1,000 to $5,000. This guide to European Blackjack recommends checking them out if you haven't already, especially if you're an American player.
But first, we recommend learning the rules to European blackjack. You can do that below.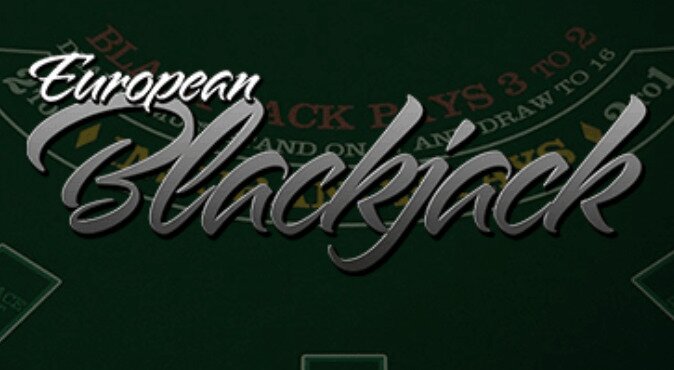 How to Play European Blackjack
European blackjack is a simple game to learn. It's played with 2 decks, and each card is indicative of it's value. For example, a five equals 5 points, a 2 equals 2 points and so on. Aces will be worth 1 or 11 points, and face cards are worth 10 points.
Your objective is to beat the dealer's hand by having the largest total of points. However, you don't want to go over 21 points. That's called busting, and is an automatic loss. It's good if the dealer goes over 21 and busts, though – you will automatically win.
The game will start with each player making their bet. How much you're able to bet will depend on where you're playing, and whether it's live or online. As a rule of thumb I would figure $1-$2 minimum online, $5 for live dealer blackjack, and a minimum of $3 to $5 for blackjack played in a brick and mortar casino.
Once each player has made his bet the dealer will give each player two cards. The dealer will also receive 2 cards. One will be face down and the other face up. After all the cards are dealt the action will start. It begins with the player closest to the left of the dealer, and works around the table clockwise.
Here are the guidelines (for both players and dealers) for European blackjack.
Dealer doesn't peek for blackjack.
Players can double on hard 9, 10 and 11 point hands only.
Players can split up to 3 times, making 4 hands.
Split aces receive one card (each) only.
Aces cannot be re-split.
No surrender allowed.
Players cannot split unlike 10-point cards. For example, you cannot split QJ, even though the value is the same. But you can split QQ, if you wanted to.
Blackjacks pay 3:2.
Dealer/player ties result in a push, and the player receiving his money back.
Dealer stands on soft 17.
Keep in mind that these rules will vary from one (online) casino to the next. They may also be different from an online to brick and mortar setting. For example, based on my research, players are able to double after a split, whereas online they're not.
And, in case you didn't notice, since the dealers don't peek for blackjack in this variation, it's possible to play your entire hand, making splits, double downs, etc, and lose it all if the dealer happens to have a natural blackjack. This will increase the house edge by .01-.10 percent.